Pull Up a Chair at Forsyth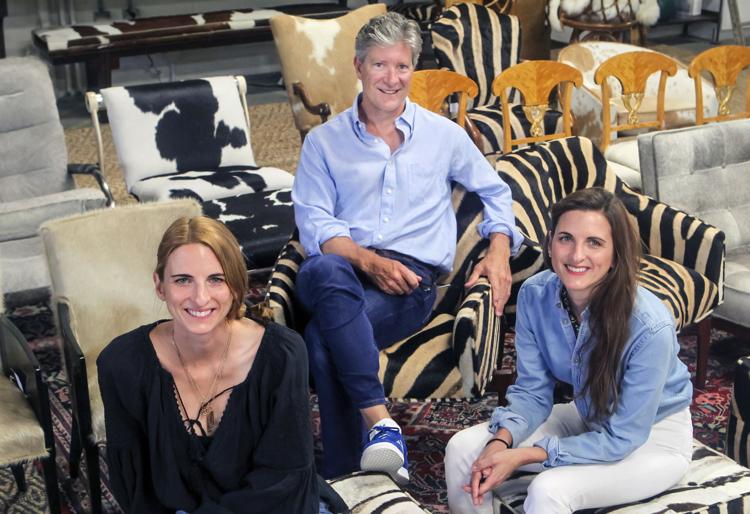 It started with a settee.
In 2013, Annie Genovese was focused on rugs. She had just cofounded Forsyth (with fellow creatives John O'Hara and Maggie Genovese, her sister), a local company that was created to sell high-end zebra-hide rugs and handcrafted pillows. "Then one day, we were shopping around for antiques and spotted this brilliant 19th-century settee that desperately needed a new life, needed new upholstery," Genovese says. "We decided to reupholster it in zebra."
The nontraditional choice was a success, turning out better than the team had envisioned. "Then more furniture was bought, from all periods – midcentury Milo Baughman swivel chairs, vintage Arne Jacobsen Egg Chairs, George II walnut dining chairs, vintage farmhouse benches and so forth," Genovese says. "We found that our customer was looking for a unique piece for his or her home – something that no one else has, a one-of-a-kind work of art."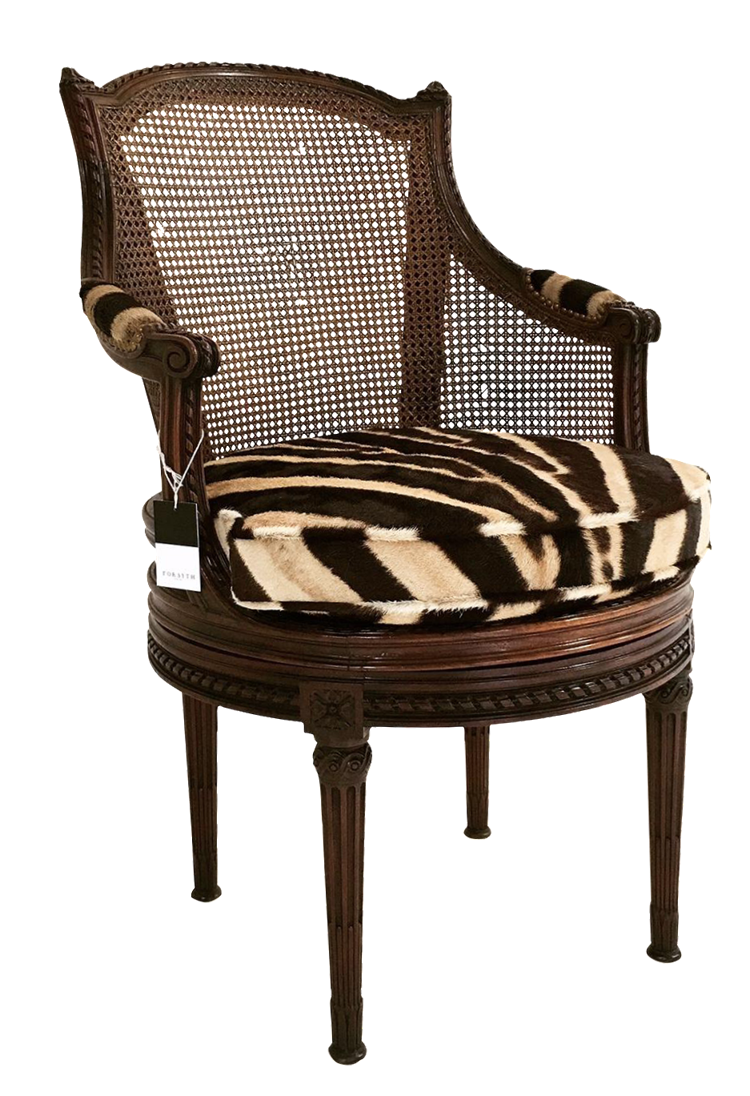 And so a new focus of Forsyth was born. While the business continues to offer rugs and pillows, its furniture sets it apart. There's the 18th-century G. Jacob Mahogany & Cane Bergere Swivel Chair in Zebra Hide, with its heavily patterned cushion if you prefer the traditional look, or the Morrison & Hannah for Knoll Chair and Ottoman in Black and White Brazilian Cowhide, a mix of midcentury modern and Wild West chic. Forsyth has benches, dining chair sets and lounge chairs – even miniatures with custom hide cushions – available for the right buyer.
Of all the masterpieces, the pair of Arne Jacobsen Egg Chairs stands out to Genovese. "The Egg Chair is a pretty iconic design to begin with, but we took it to another level," she says, noting the interior foam needed full repair. The team went with zebra-hide interior upholstery and a leather exterior, then listed both on the Forsyth website and luxury antique site 1stdibs.com. "The day after we uploaded the Egg Chairs to our 1stdibs store, we got a call from a famous actor – I won't say who!" Genovese says. "He ended up only wanting one, and we didn't want to split the pair up, so we told him no. I still can't believe we did that." The pair (priced near the high end of the low five figures) later sold to the founder of GoPro, the self-styled maker of the "world's most versatile cameras."
Although often thought of for accessories, hides offer several perks to furniture, Genovese explains. "Hide is a beautiful, natural and incredibly durable material – it adds texture, warmth and a 'cool factor' you don't get with fabric," she says. "It's not easy to upholster in hide though; it's very thick … Our master upholsterers are incredible craftsmen."
Genovese explains Forsyth works with a limited number of tanneries, noting one in South Africa for sustainable zebra hides and a few in Brazil for cow. "These culling programs help keep the zebra population within reasonable numbers," she says. "All zebra hides are inspected by U.S. Customs and U.S. Department of Fish and Wildlife upon import into the United States … The cowhides are byproducts of the beef industry."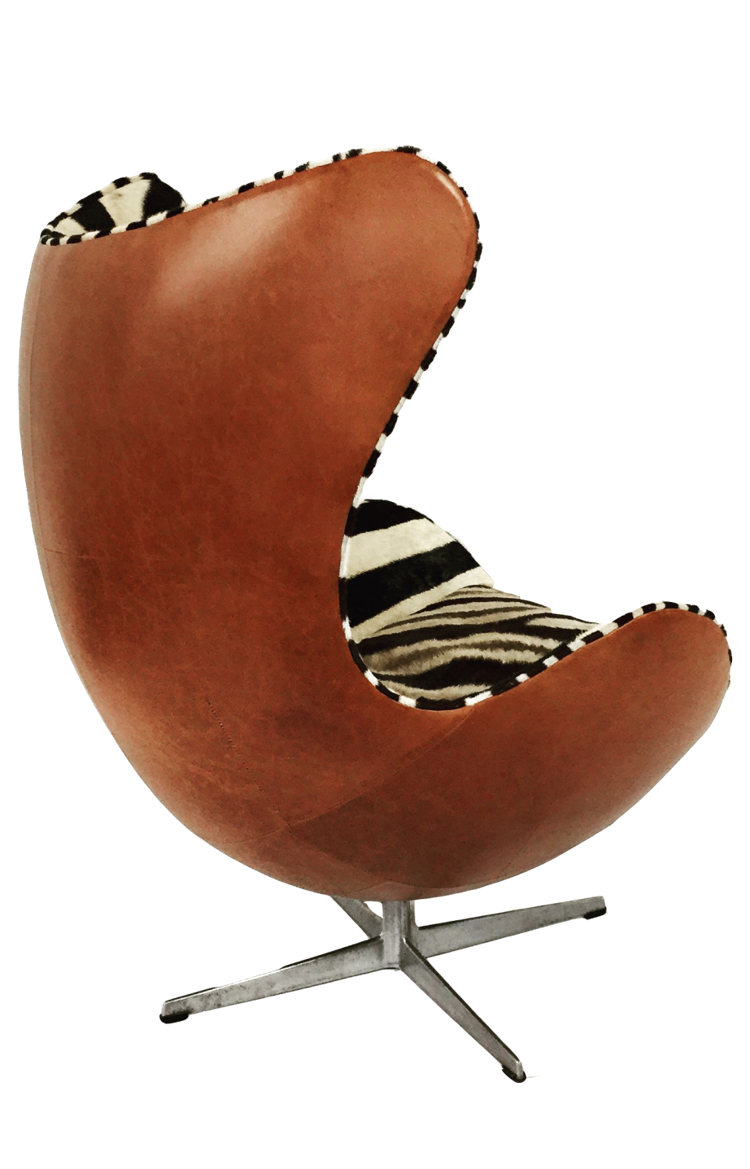 When it comes to finding the vintage pieces, Genovese often stays close to home. "St. Louis is such a treasure trove for finding incredible antique and vintage pieces," she says. "We have an unbelievable selection of beautiful vintage pieces right here in River City. Why make new [furniture] when these amazing pieces just need a new life?" She says her team enjoys recycling these treasures from yesteryear, and outside of St. Louis, they find items from auction houses such as Sotheby's, Christie's Auctions & Private Sales and Leslie Hindman Auctioneers.
Once the right piece has been found, it's time to bring it to Forsyth's Creve Coeur studio and select a hide. "We have many to choose from when it comes time to select the perfect hide for a piece, which makes it a little easier but also harder sometimes, too," says Genovese, noting each hide is unique in color and pattern. After the material is selected, the piece heads to the upholstery team. She says the design process is collaborative, and the team works to stay on par with the original if the piece is "designer."
"With most of the pieces, our upholstery team goes 'down to the bones' and restores from the inside out," Genovese says. "These chairs and sofas and ottomans are decades or hundreds of years old. Most of, if not all, the insides need to be replaced. When you're purchasing a Forsyth piece, you're purchasing a completely restored chair or sofa – we don't just cover the old foam with our hides."
Wishing your antiques had the artistic edge of a Forsyth piece? Never fear – custom orders are available.
Forsyth, showroom open by appointment, 10845 Baur Blvd., St. Louis, 314-422-1118, forsythart.com