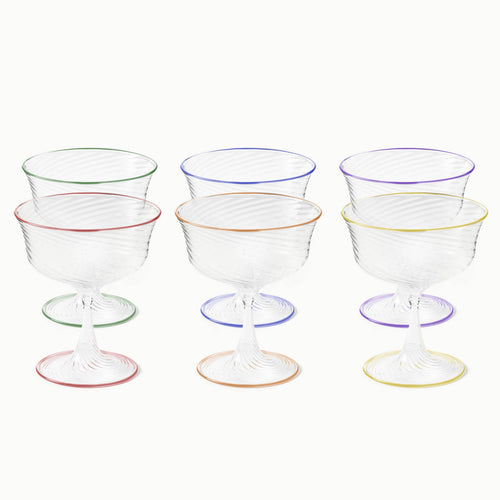 Description
Campbell-Rey is a design partnership and creative consultancy founded by Duncan Campbell and Charlotte Rey. Working fluently between residential and commercial interior design, creative direction, furniture and product design, their colorful work is a celebration of craftsmanship and conviviality, combined with a spirit of irreverence and a love of materials.
We love their glassware product line made in Venice by Laguna B, the renowned Murano glassware factory. The Cosima glasses sport the "Rigadin Menato" swirl technique which recalls the gently rolling tides of the Venetian lagoon. The beautiful color rims are hand-applied during the blowing process for a playful and elegant finishing touch.  
Amazingly, the glasses are made of Pyrex. While the beauty of Murano handblown glass is well known, this is the first time Pyrex has been placed in the hands of the glass masters of Murano. The glasses share all the lightness and complexities of traditional Venetian glassmaking while benefitting from the enhanced durability and heat resistance that Pyrex offers. Pyrex is stronger than Venetian glass, so the pieces can be gently washed in a dishwasher.
We curated the set of 6 to include a rainbow of the 6 different colors; green, blue, lilac, red, orange, and yellow.
Time to party. I'll have a Martini. How bout you?
Details
Brand
Campbell-Rey

Dimensions
3 inches diameter x 7 inches tall
Material
Borosilicate glass
Condition
New
Shipping & Delivery

Shipping & Delivery
$45 in the U.S.
For our smaller home décor items, we ship FedEx Ground. Arrives in 3 to 5 days. Do you need it faster? Inquire here.
Worldwide shipping available. Inquire here.
Need More Information?  
Would you like to see a video of this item, perhaps more photos?  If this is one of our chairs, would you like to see a person sitting in it?  If it is a painting, perhaps you would like to see a person in front of it for scale?  Send us a message and let's talk more about this cool piece.