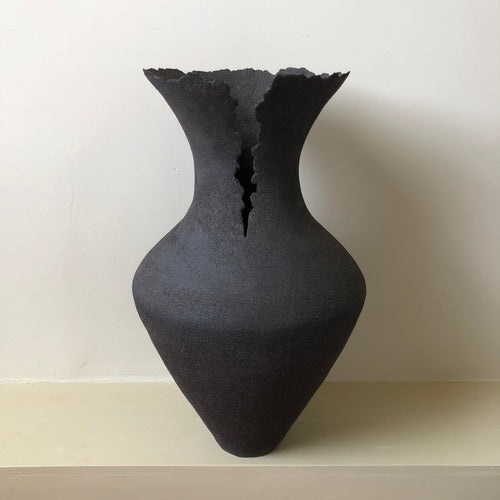 Description
Hand-built, textured black clay vessel.
Based in London, British artist Emily Buck
 studied History of Art at the Courtauld Institute of Art. She majored in the ancient world which influenced her desire to create and rethink classical forms with a contemporary, sensual and feminine aesthetic. Emily
 creates
 elegant and unique hand-built ceramic stoneware sculptures, embodying
 the Female with a sculptural design aesthetic. 
The works in this series are named and inspired by the Greek goddesses. 
Forsyth is thrilled to be the first US-based gallery to represent her work.
Details
Artist
Emily Buck
Year
2020

Dimensions
44 x 17 cm
Material
Hand-built, textured black clay stoneware.
Condition
New, original work of art.
Shipping & Delivery
At checkout, you will be charged a $25 base amount for shipping. The shipping cost will increase depending on your address. We will email this cost to you after the purchase. Emily Buck's sculptures are made in her London studio and ship directly from there. We use DHL for our international shipments. The average price to ship one of Emily's beautiful vessels from the UK to the US is around $300 (prices vary daily). Shipping cost includes professional crating and transit insurance. It does not include import customs duties and taxes which are approximately $60 and vary daily. If you would like to know the shipping cost before purchasing, please email hello@forsythart.com.
Need More Information?  
Would you like to see a video of this item, perhaps more photos?  If this is one of our chairs, would you like to see a person sitting in it?  If it is a painting, perhaps you would like to see a person in front of it for scale?  Send us a message and let's talk more about this cool piece.