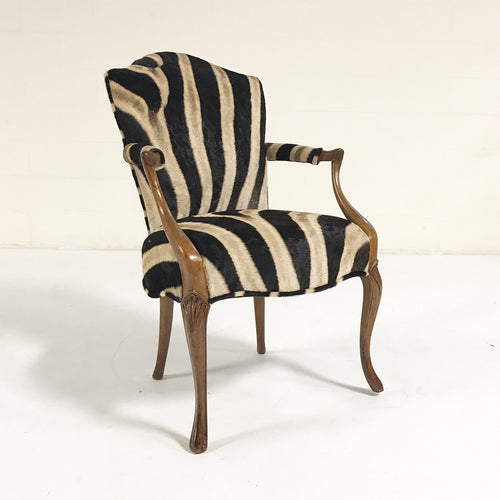 Description
We completely restored this beautiful wooden armchair with new foam and masterfully reupholstered in our zebra hide. The fluid lines of the zebra stripes mimic those of the arms and legs.  This is a lovely accent chair for any room of the house.
Details
Manufacturer
Unknown
Date
Late 20th Century
Dimensions
25 W x 26.5 D x 37 H x 18.5 SH in
Material
Zebra Hide and Wood
Condition
Excellent. Restored in our Saint Louis studio. 
Need More Information?  
Would you like to see a video of this item, perhaps more photos?  If this is one of our chairs, would you like to see a person sitting in it?  If it is a painting, perhaps you would like to see a person in front of it for scale?  Send us a message and let's talk more about this cool piece.