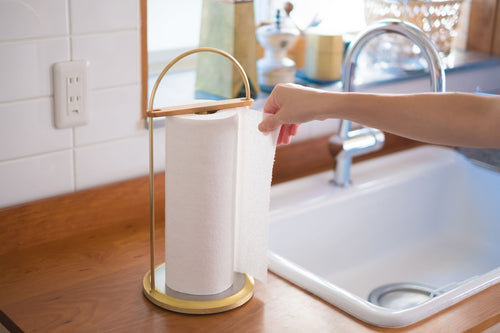 Description
Kitchen chic. Our paper towel holder is made in Japan by a storied brass manufacturer, Futagami. It is Ihada or a type of casting that leaves a crude finish which will gradually patina over time, creating a richer color. The design makes it easy to carry around by holding the top handle.  It is steady due to the weight of the brass and functional as one can easily cut the kitchen paper with only one hand. Form meets function meets cool. 
For setting a paper roll, simply lift up the wooden part of the weight and insert the round brass part of the base into the roll hole.

Details
Manufacturer
Futagami, Japan

Date
2023
Dimensions
7 Diameter x 15.3 H inches

Material
Brass

Condition
Excellent.

Shipping & Delivery
$15 in the U.S.
For our smaller home décor items, we ship FedEx Ground. Arrives in 3 to 5 days. Do you need it faster? Inquire here.
Worldwide shipping available. Inquire here.
Need More Information?  
Would you like to see a video of this item, perhaps more photos?  If this is one of our chairs, would you like to see a person sitting in it?  If it is a painting, perhaps you would like to see a person in front of it for scale?  Send us a message and let's talk more about this cool piece.