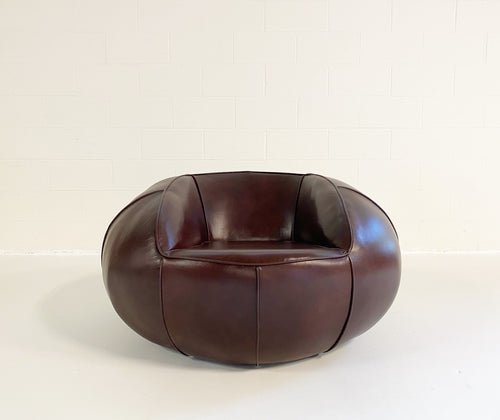 Description
This is an original Forsyth design inspired by a 1970s chair we found in an antique shop in St. Louis. The original was from Italy. We had never seen anything like it!  The low profile, the beautiful curves, the leather detailing - it's a chair worth designing a room around.
Introducing our 5501 Lounge Chair, what we lovingly refer to as Il Duomo chair. It is handcrafted in Saint Louis. The interior wooden frame is finished with foam cushioning to create the round shape and comfortable seat and upholstered in luxuriously soft cigar-hued leather.
Made-To-Order | Please allow 14 to 16 weeks.
Bespoke Notes | The Duomo Chair can be made completely bespoke. Reach out to us if you are interested in a different fabric.
Details
Manufacturer
Forsyth, Saint Louis
Date
Current production.
Dimensions
42 W x 37 D x 22.5 H x 14 SH in
Material
Leather
Condition
New.
Shipping & Delivery
$850 in the U.S. 
This cost is for white glove shipping in the United States. Arrives in 3 to 6 weeks. Cost includes full insurance, item collection and packaging, shipping and handling, and delivery by appointment. You don't need to lift a finger. Just point to the spot in your home where this beauty will live and our trusted white glove partners will do the heavy lifting.
If you would like a shipping quote for a different method,  Inquire Here.
Worldwide shipping available. Inquire here.
Need More Information?  
Would you like to see a video of this item, perhaps more photos?  If this is one of our chairs, would you like to see a person sitting in it?  If it is a painting, perhaps you would like to see a person in front of it for scale?  Send us a message and let's talk more about this cool piece.