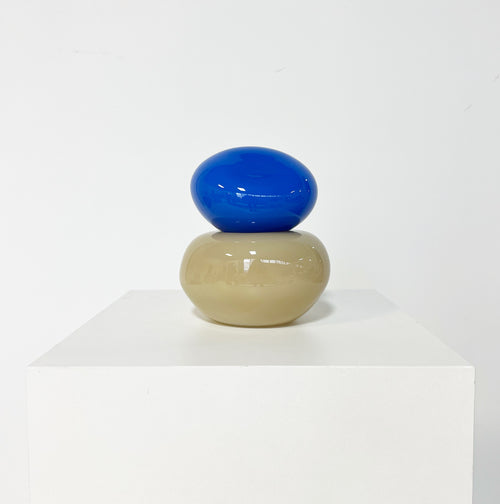 Description
Helle Mardahl's Bonbonniere Vase is a fusion of sculptural elegance and functionality. Its petite structure is gracefully topped with a colorful lid to complete the candy look. Each piece of the Bon Bon collection is handmade by in Copenhagen.
A graduate of London's Central Saint Martins, Copenhagen-based Helle Mardahl is an artist and designer specializing in richly colored glass sculptures and accessories. Her work encompasses sculpture, installation, painting, fashion, and interior design. Her work is marked by a sense of lavishness and extravagance combined with a sense of flamboyance. As a designer, Helle Mardahl is concerned with the beauty of contrasts. Her richly colored designs are alive and natural, fragile yet robust, simple yet ornate.
Influenced by nostalgic memories from childhood and iconic films such as Alice in Wonderland and Charlie & The Chocolate Factory, the collection of glossy glass Bon Bon vases is our favorite. They are hand-blown and crafted in small batches. The rich, saturated hues paired with surreal, sculptural shapes elevate both simple and ornate interiors. We love placing them on a coffee table or mantle or shelf for that perfect pop of color.
And yes! These are functional works of art. You can use them as flower vases. When removing the water use a sponge and scrub the surface. Afterwards, wash by hand in lukewarm water with a little detergent and just remember to wipe dry to avoid any water stains. 
Care: Helle Mardahl products are not dishwasher friendly. All products should be washed by hand in lukewarm water with a little detergent and wiped dry afterwards to avoid water stains.
Please note that each product is handmade and unique, so the shape and color may differ slightly from the one pictured. Furthermore, small magical  bubbles may appear.
Details
Artist
Helle Mardahl
Dimensions
4 W x 5 H in approx.
Material
Glassware
Condition
New
Shipping & Delivery
$15 in the U.S.
For our smaller home décor items, we ship FedEx Ground. Arrives in 3 to 5 days. Do you need it faster? Inquire here.
Worldwide shipping available. Inquire here.
Need More Information?  
Would you like to see a video of this item, perhaps more photos?  If this is one of our chairs, would you like to see a person sitting in it?  If it is a painting, perhaps you would like to see a person in front of it for scale?  Send us a message and let's talk more about this cool piece.