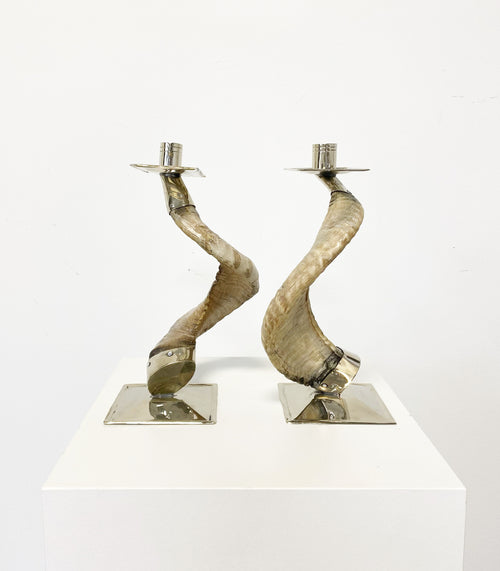 Description
A beautiful duo for your table, mantel, or console. These cool candlesticks are a striking pair. We love the combination of horn and silver. 
Made in Argentina.
Arandu, a luxury talabartería, started as a  family-owned shop in Argentina. A 
talabartería is a traditional Argentine outfitter selling gaucho gear, saddles, ponchos, mate gourds, silver, leather goods, cowhides, and more. 
Originating in the mid-1980s, Arandu started out making bespoke leather saddles and bridles, eventually expanding to bags, boots, wallets, and other handmade items, including silver, wood, and ceramic accessories. Detailing is the focal point of every piece. We adore the home collection from Arandu including exceptional steak knives, beautiful silver and leather-wrapped candlesticks, and silver bowls for entertaining. Gaucho style to the fullest.
Each candlestick is one of a kind and will be similar, but not exactly like the one shown in the photos.
Details
Brand
Arandu

Dimensions
Approximately 11 H inches
Material
Silver alpaca and Leather
Condition
New
Shipping & Delivery

Shipping & Delivery
$45 in the U.S.
For our smaller home décor items, we ship FedEx Ground. Arrives in 3 to 5 days. Do you need it faster? Inquire here.
Worldwide shipping available. Inquire here.
Need More Information?  
Would you like to see a video of this item, perhaps more photos?  If this is one of our chairs, would you like to see a person sitting in it?  If it is a painting, perhaps you would like to see a person in front of it for scale?  Send us a message and let's talk more about this cool piece.