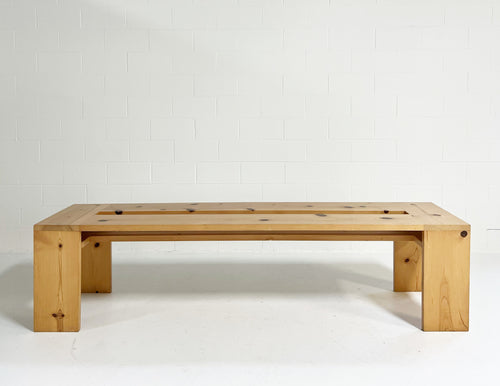 Slotted Library Tables Selected by John Pawson for the 1995 Calvin Klein Store in New York, Two Available
Description 
Slotted Library Tables Selected by John Pawson for the Calvin Klein Collections Store
New York, New York, 1995
Stamped Marks 'JUDD ESTATE 1995 LT CP 137 WPF'
Pine, 101 3/4 W x 25 1/2 D x 26 H
Two tables available.
Donald Judd, one of the most significant artists of the 20th century, was well-known for his large-scale minimalist works as well as his association with the desert town of Marfa, Texas. He was a master of scale and detail, space and volume. In his later years, he began designing furniture like his minimalist sculptures. 
These Donald Judd tables were iconic fixtures in the historic John Pawson-designed Calvin Klein flagship store in New York. The 20,000 square foot store on Madison Avenue at 60th Street in the Upper East Side opened in 1995 to much acclaim for its sparse minimalism and empty space rarely employed in a retail setting before that time. The store design was a perfect complement to the aesthetic of the Calvin Klein brand in the early 1990s.
Regarding the Calvin Klein store design from the opinion of John Pawson: "The principal exterior move is the installation of pavement-to-third floor panels of
glass between the existing monumentally scaled pilasters, effectively turning the
entire building into a showcase. Inside, the new accommodation is inserted without
disrupting the handsome proportions of the original lofty banking hall and in such a
way as to minimise the visual impact of the structural columns. From the glass
vestibule that rises six metres, the immediate impression is of a calm visual field: an
immaculate expanse of honey-coloured Yorkstone flags, thick white walls with tight
openings and benches that appear variously to float or to extrude from the floor." Source | JohnPawson.com

"In the early 1970s, Donald Judd began to design furniture for 101 Spring Street in New York. His first designs were a wood bed and metal sinks. In 1977, he returned to furniture design through necessity; he needed pieces for his children's bedrooms in Marfa, Texas, and pieces for the entire residence. By 1984, Judd had designed a range of wood furniture including a bed, desk, and a daybed; and metal furniture including chairs, benches, beds, and a table. That same year, Judd had his first exhibition of metal furniture at Max Protetch in New York. From 1984 to 1993, he continued to develop new designs. At this time he began writing in more formal terms about furniture and his approach to design, fabrication, sales, and distribution.
Fundamental to Judd's designs are his specifications regarding dimensions, material type, finish, and construction of each piece. Judd specified that the quality remain high, a considered approached given that fabrication of the furniture involved the expertise and handwork of both local carpenters and master craftsmen. He selected fabricators he entrusted with the interpretations of his designs, working directly with them to develop and refine his desired level of quality." ~ Source | Donald Judd Foundation
Details
Artist
Date
1995

Dimensions
101.75 W x 25.25 D x 26 H in
Material
Pine

Condition
Very good vintage condition. Some nicks and scratches present throughout consistent with its history and use.

Shipping & Delivery
$1,500 in the U.S. 
This cost is for white glove shipping in the United States. Arrives in 3 to 6 weeks. Cost includes full insurance, item collection and packaging, shipping and handling, and delivery by appointment. You don't need to lift a finger. Just point to the spot in your home where this beauty will live and our trusted white glove partners will do the heavy lifting.
If you would like a shipping quote for a different method,  Inquire Here.
Worldwide shipping available. Inquire here.
Need More Information?  
Would you like to see a video of this item, perhaps more photos?  If this is one of our chairs, would you like to see a person sitting in it?  If it is a painting, perhaps you would like to see a person in front of it for scale?  Send us a message and let's talk more about this cool piece.