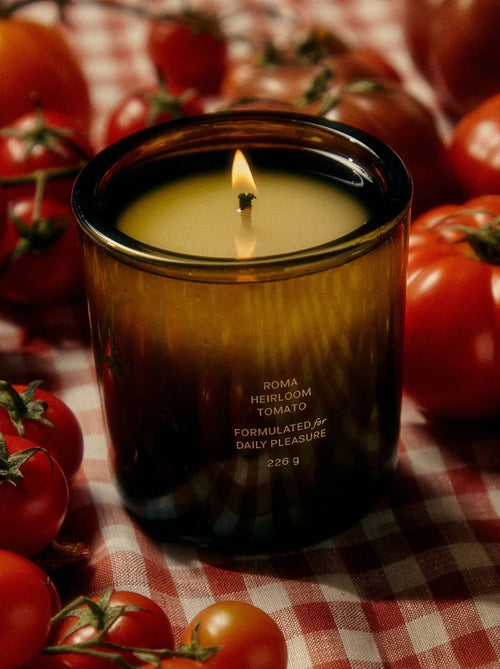 Description
Conjures memories of late summer dinner parties in Sicily.
We worship the tomato. Ripe, supple and bursting with juice, the scent of the heirloom tomato catapults us to memories of late summer dinner parties in Sicilian gardens and awakens pleasure in all our uncommon senses.
100% Vegetable Wax, Fully Recyclable Glass, Hand Poured in Los Angeles
Flamingo Estate's candles are packaged in boxes with an FSC certification, which means they were made using materials from responsibly managed forests, including some recycled paper products.

The soy wax in our candles is non-GMO and grown in the USA.

As members of 1% for the Planet Organization, we've partnered with the National Forest Foundation to plant one tree for every product that is sold. We have planted 150,000 trees thus far, and are projected to plant 210,000 trees by 2023.
When burning your candle for the first time, allow it to burn for 2 to 3 hours (but never more than 4), until the top layer of the wax has completely melted. This will prevent the wax from tunneling around the wick.

Ideally, we recommend keeping the wick trimmed to 1/4 inch at all times to prevent the candle from emitting smoke or the wick falling into the wax.

After each burn, see that the wick is centered in the wax. This will also ensure that the glass does not overheat. The wick and flame should never be touching the glass.
Details
Brand
Flamingo Estate
Ingredients
100% Vegetable Wax, Cotton Wick

Size
Shipping & Delivery

$15 in the U.S.
For our smaller home décor items, we ship FedEx Ground. Arrives in 3 to 5 days. Do you need it faster? Inquire here.
Worldwide shipping available. Inquire here.
Need More Information?  
Would you like to see a video of this item, perhaps more photos?  If this is one of our chairs, would you like to see a person sitting in it?  If it is a painting, perhaps you would like to see a person in front of it for scale?  Send us a message and let's talk more about this cool piece.