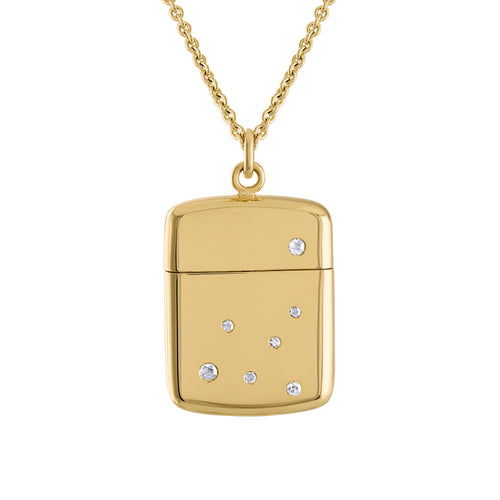 Description
The JJ Case Memento Pendant in 18k Gold is designed to hold personal stories. A love letter, a poem, a date, a name....Celebrate and commemorate meaningful moments by engraving them on a gold card. Even in your own handwriting if you desire. Engraving can be done on both sides, in most fonts or personal hand-writing.
The solid 18k insert measures 21 mm x 18 mm. Upon ordering an insert you will receive an email from us with instructions. 
The solid gold spring-hinged case measures 27mm x 20mm and is set with seven rose cut diamonds measuring between 1.8 to 1.3mm. 
Available in rose and yellow gold. 
This case is hand-crafted by artisans in New York City using century-old techniques and machinery. 
Made-to-order. Please allow 3 to 5 weeks for delivery. 
Gold is certified responsibly sourced. Diamonds are conflict-free.
Final Sale.
Details
Brand
Jennifer Alfano

Dimensions
27mm x 20mm
Material
18k Gold, Diamond
Condition
New
Shipping & Delivery
Free Shipping. This item ships free from Jennifer Alfano.
Worldwide shipping available. Inquire here.
Need More Information?  
Would you like to see a video of this item, perhaps more photos?  If this is one of our chairs, would you like to see a person sitting in it?  If it is a painting, perhaps you would like to see a person in front of it for scale?  Send us a message and let's talk more about this cool piece.