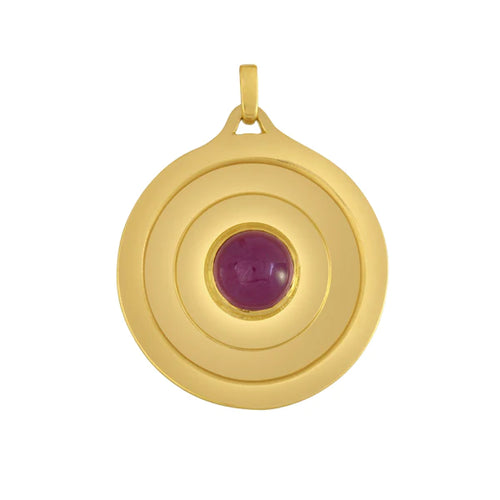 Description
Beautiful 18k gold and ruby pendant.
28mm in diameter (approx 1 ¼") with 8mm cabochon Ruby30.
Made-to-order by artisans in New York. Please allow 3 to 5 weeks for delivery.
Gold for pendant only is certified responsibly sourced.
Final Sale.
Details
Brand
Jennifer Alfano

Dimensions
Approx. 1 ¼"

Material
18k Gold, 8mm Turquoise
Condition
New
Shipping & Delivery
Free Shipping. This item ships free from Jennifer Alfano.
Worldwide shipping available. Inquire here.
Need More Information?  
Would you like to see a video of this item, perhaps more photos?  If this is one of our chairs, would you like to see a person sitting in it?  If it is a painting, perhaps you would like to see a person in front of it for scale?  Send us a message and let's talk more about this cool piece.