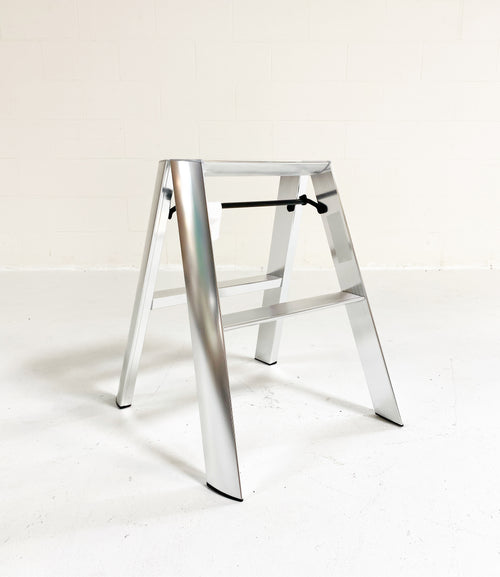 Description
The best ladder in the world is Japanese and you'll use it everyday. 
Created by design lab Metaphys and Hasegawa Kogyo Co., the top manufacturer of ladders and scaffolding in Japan since 1956, this amazing ladder has received design accolades out the wazoo. They transformed an ordinary household item into a simple, refined work of art. Arriving at your door fully assembled, each ladder is made of aluminum and steel with a beautiful matte paint coating that won't chip. It has safety features such as non-skid feet and grooved treads in the steps. 

Why do we love the Hasegawa Lucano ladders? We have been using these ladders in our warehouse and showroom since we began the brand over 5 years ago. They've been to trade shows with us, to pop-ups with us, and used every day in between. We now feel like they're an integral part of our team. These ladders do the job impeccably and they're so fine looking, you won't want to stash 'em away. Everyday art.
The ladder is durable without being heavy, weighing only 9.5 pounds, and can hold up to 300 pounds. 
Care Instructions: Clean with dish soap or mild detergent
Details
Brand
Hasegawa
Dimensions
Open: 20.25 in W x 19.5 in H x 22.5 in D
Closed: 20.25 in W x 22 in H x 8 in D
Material
Aluminum and Steel
Condition
New
Shipping & Delivery
$40 in the U.S.
For our smaller home décor items, we ship FedEx Ground. Arrives in 3 to 5 days. Do you need it faster? Inquire here.
Worldwide shipping available. Inquire here.
Need More Information?  
Would you like to see a video of this item, perhaps more photos?  If this is one of our chairs, would you like to see a person sitting in it?  If it is a painting, perhaps you would like to see a person in front of it for scale?  Send us a message and let's talk more about this cool piece.