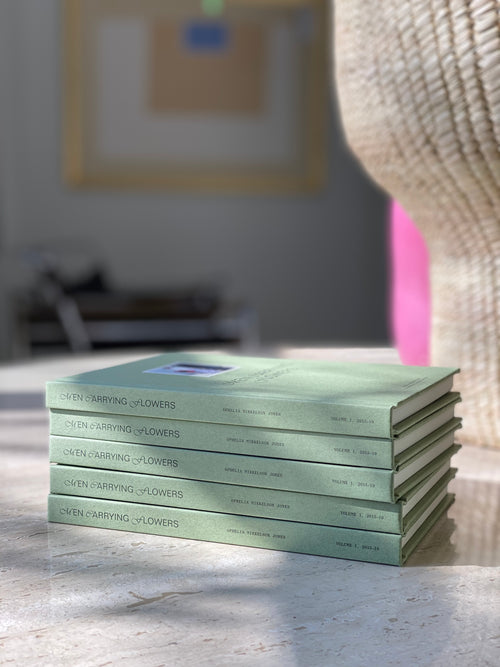 Description
Men Carrying Flowers: Volume 1, is an ongoing work by artist Ophelia Mikkelson Jones. Captured on an iPhone camera, the photographs document an intimate gesture in a public space: a man carrying flowers, on the street. The work pursues the unplanned and fleeting occurrence over five years, considering kindness as a matter to be found and followed. Alongside the work is writing by author Durga Chew-Bose. Bose offers ten encounters of men carrying flowers, drawing from both personal and imagined realities.
Ophelia Mikkelson Jones is an artist from New Zealand. Drawn to moments of everyday encounter and intimate gesture her multidisciplinary practice includes photography, painting and sculpture.
Durga Chew-Bose is a writer based between Montreal and New York. Her book of essays, Too Much and Not the Mood, was published in 2017. Chew-Bose has written for publications including The Guardian, Vanity Fair, Rolling Stone and is Senior Editor at SSENSE.
Published by Anyonegirl.
Details
Author and Artist 
Ophelia Mikkelson Jones
Size
7.5 H x 5 inches, 100 pages
Condition
New
Shipping & Delivery
$18 in the U.S.
For our smaller home décor items, we ship FedEx Ground. Arrives in 3 to 5 days. Do you need it faster? Inquire here.
Worldwide shipping available. Inquire here.
Need More Information?  
Would you like to see a video of this item, perhaps more photos?  If this is one of our chairs, would you like to see a person sitting in it?  If it is a painting, perhaps you would like to see a person in front of it for scale?  Send us a message and let's talk more about this cool piece.