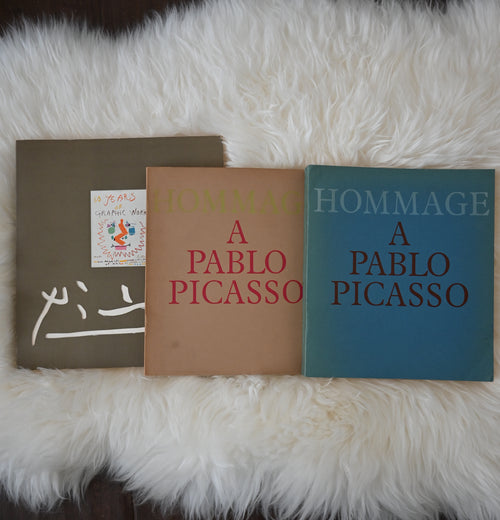 Description
This curated book stack is part of our collaboration with LA-based, Maison Plage. The stack is curated to be visually pleasing as well as a joy to read and peruse. The stack includes three beautiful art books on Pablo Picasso. Includes 2-Set Hommage A Pablo Picasso (1966-67) & the out of print Picasso: 60 Years of Graphic Works (1966).
Lead time is 2 to 4 weeks.
Details
Brand
Maison Plage
Size
3 Books in This Stack
Condition
Vintage and New
Shipping & Delivery
$25 in the U.S.
For our smaller home décor items, we ship FedEx Ground. Arrives in 3 to 5 days. Do you need it faster? Inquire here.
Worldwide shipping available. Inquire here.
Need More Information?  
Would you like to see a video of this item, perhaps more photos?  If this is one of our chairs, would you like to see a person sitting in it?  If it is a painting, perhaps you would like to see a person in front of it for scale?  Send us a message and let's talk more about this cool piece.