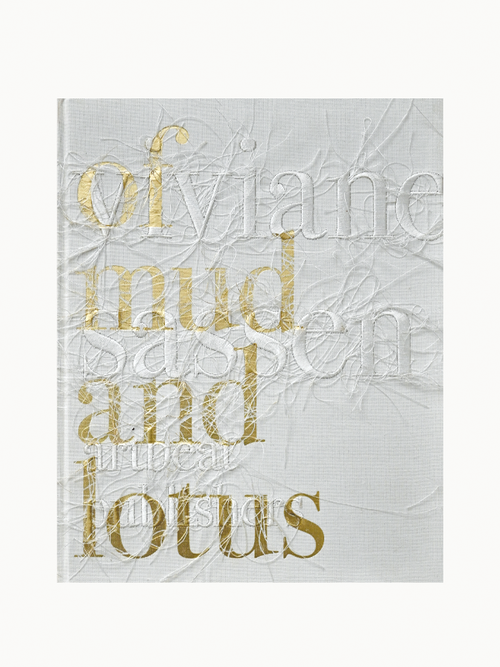 Description
This rare edition is part of our collaboration with LA-based, Maison Plage. This beautiful book was published in 2017 and is now out of print. Hard cover with embroidery.
More About the Book from Viviane Sassen.com | 
Of Mud and Lotus, 2017

Of Mud and Lotus is Viviane Sassen's second collaboration with Japanese collective artbeat publishers and G/P Gallery, Tokyo. As the title suggests, this body of work engages in a conversation on transformation, procreation and fecundity, all elements traditionally ascribed to the idea of the feminine.

Experimenting with collages and unique hand-coloured pieces, Sassen creates images in which abstraction and performance intertwine. In this evocative and imaginary realm of intense colour and textures, the imagery is rich with associative references that allow for layered readings and responses. Very little is what it seems at first sight.

Dense clusters of fungi and spores are reminiscent of proliferating living cells. Organic materials such as eggs, milk, flowers and natural dyes are prominent in the imagery of female figures, enhancing a sense of their sinuosity in the natural world. In seemingly abstract compositions, mundane objects and apparently incidental motifs are transformed with collage, filters and streaks of pigment to the point of where their original forms lie unrecognisable below Sassen's interventions.

The book is beautifully printed and bound, with loose threads extending from its embroidered cover.
Details
Brand
Maison Plage
Size
1 Book
Condition
Vintage
Shipping & Delivery
$25 in the U.S.
For our smaller home décor items, we ship FedEx Ground. Arrives in 3 to 5 days. Do you need it faster? Inquire here.
Worldwide shipping available. Inquire here.
Need More Information?  
Would you like to see a video of this item, perhaps more photos?  If this is one of our chairs, would you like to see a person sitting in it?  If it is a painting, perhaps you would like to see a person in front of it for scale?  Send us a message and let's talk more about this cool piece.