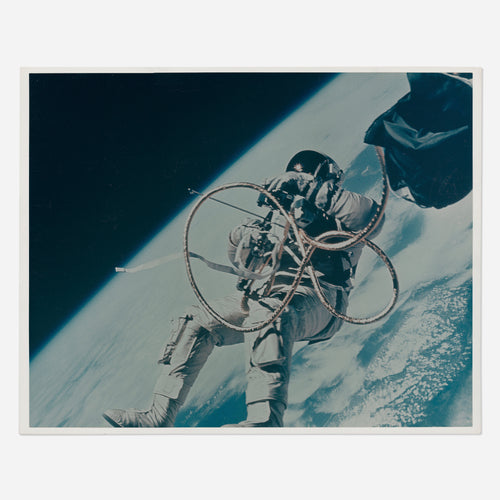 Description

First US spacewalk: Ed White floating in zero gravity over the Earth (large format), James McDivitt [Gemini IV], 3-7 June 1965
James McDivitt took this photograph from his Command Pilot left seat of the capsule with a Hasselblad model 500 C (NASA modified) and 70mm Eastman Kodak Ektachrome MS film. Ed white was spacewalking over South California.

'A Kodak paper' watermarks to verso. [NASA image S-65-30430]
Beautifully framed in our signature black gallery frame. Ready to hang. 
Photograph is 20 W x 16 H in and Framed 33.5 x 41 H.
Provenance  |  Marking the 50th anniversary of the last human voyage to the moon, Wright and LAMA Auction Houses presented One Giant Leap for Mankind: Vintage Photographs from the Victor Martin-Malburet Collection, Celebrating the 50th Anniversary of Project Apollo (1961–1972), an auction that took place in Chicago on October 28th, 2022. This stunning collection comprises more than 300 original historic photographs from Project Apollo, the NASA program responsible for placing the first humans on the surface of the moon. Meticulously researched and collected over the course of 25 years by Victor Martin-Malburet, each image represents extraordinary feats of human exploration, imagination, and collaboration, and many of those being offered have never been published.
Details
Photographer
James McDivitt
Date
Printed 1965
Dimensions
Photograph is 20 W x 16 H in and Framed 33.5 x 41 H.
Material
Large format vintage chromogenic print on fiber-based Kodak paper, flush-mounted on original card
Condition
Good condition.  Newly framed.
Shipping & Delivery
$225 in the U.S. 
For small art, we ship FedEx Ground. Arrives in 3 to 5 days. Do you need it faster? Inquire here.
Worldwide shipping available. Inquire here.
Need More Information?  
Would you like to see a video of this item, perhaps more photos?  If this is one of our chairs, would you like to see a person sitting in it?  If it is a painting, perhaps you would like to see a person in front of it for scale?  Send us a message and let's talk more about this cool piece.