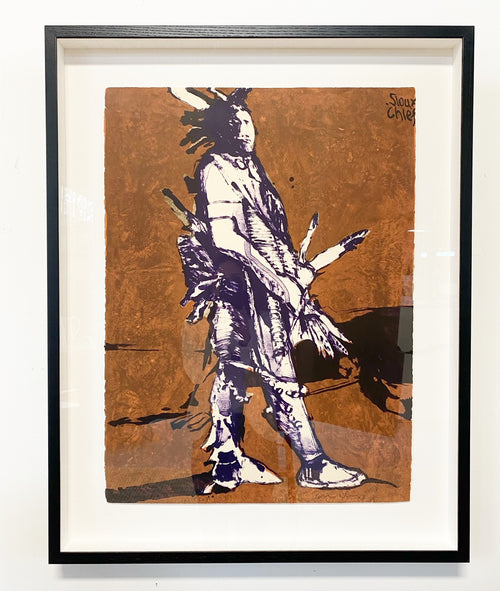 Description
From Artsy:  Once a prominent and controversial figure best known for his "Indian" series of paintings, Fritz Scholder—who considered himself equal parts German, French, and Luiseno and was an enrolled member of the Californian tribe—subverted the traditional, romantic image of the American Indian in his work, instead portraying Native Americans through a realist lens. Despite the fame that his "Indian" paintings brought, considered himself a colorist first and foremost, also producing sculpture, prints, and photography. "One color by itself isn't that interesting—it's the second color and a third color, and a dialogue starts and pretty soon you're swept up in it," he once said.
Signed in graphite lower right.
Edition: 21/150.
Details
Artist
Fritz Scholder
Date
1978

Dimensions
29.5 x 37.25, framed.

Material
Color lithograph on Arches buff paper.

Condition
Good, vintage condition. Tape has been removed from verso in multiple places. One point of discoloration along bottom edge on verso. Professionally framed.
Shipping & Delivery
$225 in the U.S. 
For small art, we ship FedEx Ground. Arrives in 3 to 5 days. Do you need it faster? Inquire here.
Worldwide shipping available. Inquire here.
Need More Information?  
Would you like to see a video of this item, perhaps more photos?  If this is one of our chairs, would you like to see a person sitting in it?  If it is a painting, perhaps you would like to see a person in front of it for scale?  Send us a message and let's talk more about this cool piece.