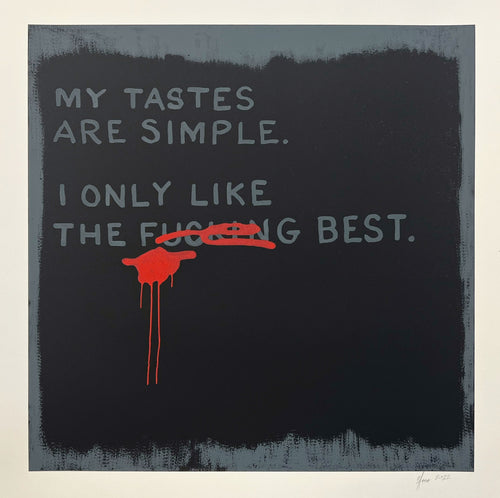 Description
John O'Hara's famous The xxxxxxx Best painting is now a 3-Color Serigraph on recycled Archival Hemp Paper. Hand signed by the artist.
This work is unframed. 27.5 x 27.5 inches
John O'Hara (1963) is an American painter who is well known for his abstract depictions of vinyl records. His chosen medium is encaustic, a heated mixture of beeswax and pigment. O'Hara began his professional art career in 2018 and collectors and designers quickly took notice. His work is included in private collections as well as public collections around the world:
Public Collections: London, Milan, Paris, New York, Seoul, New Orleans, Telluride, Nashville, Rome, Tokyo, Kuala Lumpur, Shanghai, Hong Kong, Beijing, Seattle, Saint Louis.
Details
Artist
John O'Hara
Date
Open Edition

Dimensions
27.5 W x 27.5 H in
Material
Three-color serigraph on archival hemp paper.
Condition
New.
Shipping & Delivery
$25 in the U.S. 
For small art, we ship FedEx Ground. Arrives in 3 to 5 days. Do you need it faster? Inquire here.
Worldwide shipping available. Inquire here.
Need More Information?  
Would you like to see a video of this item, perhaps more photos?  If this is one of our chairs, would you like to see a person sitting in it?  If it is a painting, perhaps you would like to see a person in front of it for scale?  Send us a message and let's talk more about this cool piece.