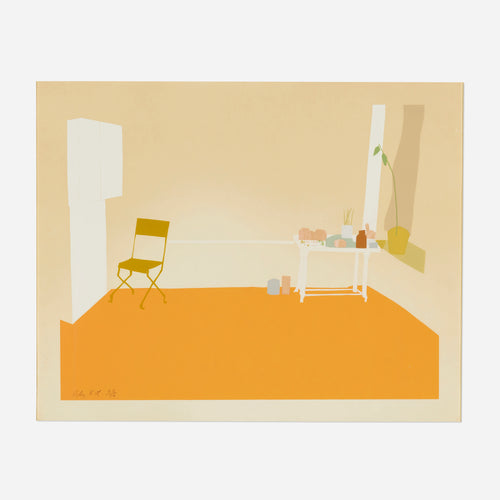 Description
We are big fans of Alex Katz's portraiture. When you see a Katz, you know it's a Katz. His landscapes are also beautiful and refined. We love this sophisticated orange room, rich in color. 
Signed and numbered to lower left 'Alex Katz 29/50'. This work is number 29 from the edition of 50 published by Fischbach Gallery, New York.
Beautifully framed in our signature wide gold leaf Italian frame with Optium Museum Acrylic. Ready to hang. 
About Optium Museum Acrylic |  Trusted by the world's most renowned museums, this state-of-the-art glazing boasts a virtually invisible anti-reflective coating allowing viewers to see the finest details in crystal clear color neutrality, while its UV-filtering, abrasion resistant acrylic, and anti-static coating offer uncompromising protection and preservation. It virtually eliminates reflections, blocks  up to 99% of UV rays. Optimal light transmission protects and brightens colors and has anti-static protection that immediately dissipates static. Durable hard coat protects against scratches and its shatter resistance safeguards against injury and damage to artwork.
Details
Artist
Alex Katz

Date
1968
Dimensions
Image: 16 H × 21.5 W inches and Framed: 30 H × 25 W inches 
Material
Screenprint in colors on Beckett.
Condition
Great condition. 
Shipping & Delivery
$225 in the U.S. 
For small art, we ship FedEx Ground. Arrives in 3 to 5 days. Do you need it faster? Inquire here.
Worldwide shipping available. Inquire here.
Need More Information?  
Would you like to see a video of this item, perhaps more photos?  If this is one of our chairs, would you like to see a person sitting in it?  If it is a painting, perhaps you would like to see a person in front of it for scale?  Send us a message and let's talk more about this cool piece.