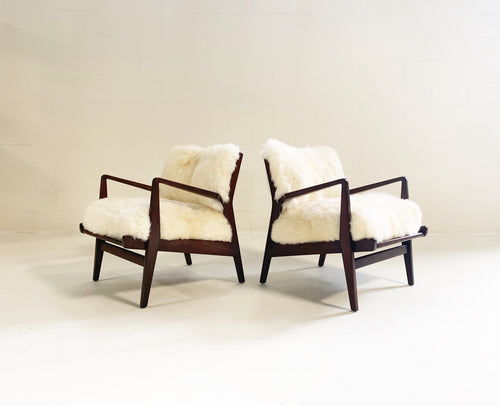 Description
We love the lines of these chairs, so simple, so Scandinavian. Danish-born Jens Risom was one of the first designers hired by Knoll Inc. He played an integral role in introducing American buyers to the hallmarks of Scandinavian design – simplicity and craftsmanship. Thank you, Jens. We restored these chairs in our Brazilian sheepskin. The two seat cushions and the ottoman cushions are generously stuffed with down feathers for that sink-into feeling we love.
Details
Manufacturer
Jens Risom, USA
Date
Mid 20th Century
Dimensions
Chair: 27.5 W x 29 D x 30 H x 18.5 SH in
Material
Brazilian Sheepskin
Condition
Excellent. Restored in our Saint Louis studio. 
Need More Information?  
Would you like to see a video of this item, perhaps more photos?  If this is one of our chairs, would you like to see a person sitting in it?  If it is a painting, perhaps you would like to see a person in front of it for scale?  Send us a message and let's talk more about this cool piece.