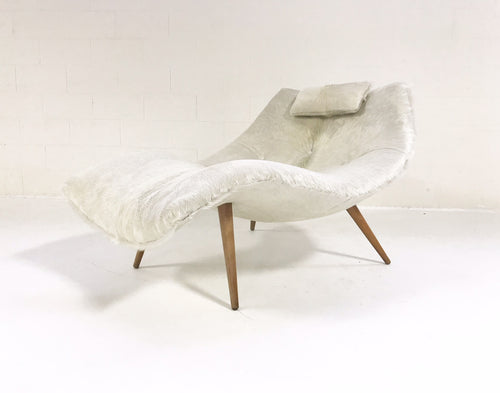 Description
This is a very rare Adrian Pearsall for Craft Associates 1828-C chaise lounge.
Adrian Pearsall began his career as an architect but dabbled in furniture design, quickly becoming a leader in the modernist furniture movement. The chaise was completely restored down to the wooden frame with new foam and cushioning. And we upholstered the chaise lounge in our stunning ivory-hued Brazilian cowhides. From our unparalleled collection of ivory cowhides, we found two of the biggest hides - one draped perfectly for the top and the other completely covered the bottom. Look at the zoomed in photos of the cowhide - the hair is so silky and long and soft!  We love how the beautiful cowhide pairs perfectly with the fluid lines of the chaise. It's so comfortable too. This is a showpiece and is destined for an amazing room.
Want to see this chaise lounge in person? It's on display and for sale at the Heidi Merrick store in downtown LA. Click here for details.
Details
Manufacturer
Craft Associates, USA
Date
Mid 20th Century
Dimensions
40 W x 60 D x 32 H x 17.5 SH in
Material
Brazilian Cowhide
Condition
Excellent. Restored in Saint Louis. 
Shipping & Delivery
$850 in the U.S. 
This cost is for white glove shipping in the United States. Arrives in 3 to 6 weeks. Cost includes full insurance, item collection and packaging, shipping and handling, and delivery by appointment. You don't need to lift a finger. Just point to the spot in your home where this beauty will live and our trusted white glove partners will do the heavy lifting.
If you would like a shipping quote for a different method,  Inquire Here.
Worldwide shipping available. Inquire here.
Need More Information?  
Would you like to see a video of this item, perhaps more photos?  If this is one of our chairs, would you like to see a person sitting in it?  If it is a painting, perhaps you would like to see a person in front of it for scale?  Send us a message and let's talk more about this cool piece.