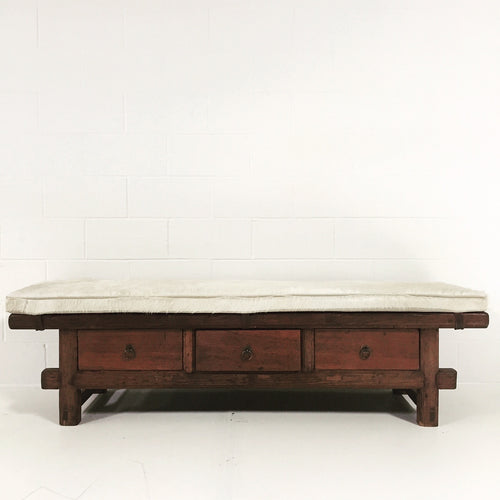 Description
We fell in love with collecting these vintage and antique Chinese benches because they are so versatile.  We can picture them in a million different interiors, a million styles.  Take this one, we cannot help but picture this 50 year old bench from the Dongbei Province in a mountain home with ochre Aspen trees filling the glass windows. 
Details
Manufacturer
Unknown, China
Date
20th century
Dimensions
74.5 W x 19.5 D x 20.5 H in
Material
Brazilian Cowhide and Wood
Condition
New cushion.
Need More Information?  
Would you like to see a video of this item, perhaps more photos?  If this is one of our chairs, would you like to see a person sitting in it?  If it is a painting, perhaps you would like to see a person in front of it for scale?  Send us a message and let's talk more about this cool piece.