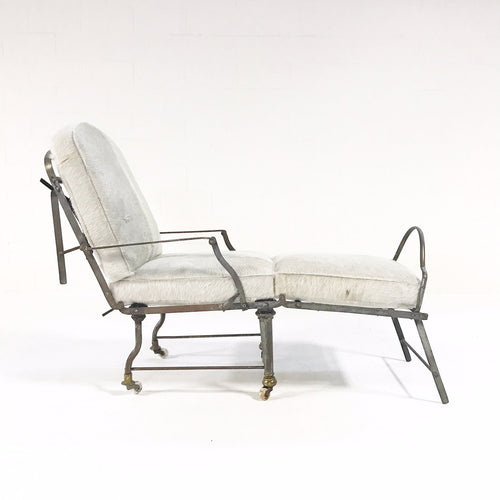 Description
A beautiful antique metal campaign chaise lounge from France. The chaise can be positioned into 3 different positions - as a chair, a traditional chaise, and a flat daybed. We custom made 3 cushions from our gorgeous ivory cowhide. Each cushion is generously stuffed with down feathers and a little synthetic to hold the shape. The cushions are attached with leather straps.  We adore this one of a kind piece.  Perfect for a sunny bedroom!
Details
Manufacturer
Unknown
Date
Mid 19th Century
Dimensions
With back up: 26 W x 55 D x 41 H x 19.5 SH in
Material
Brazilian Cowhide, Leather, Metal 
Condition
Excellent. Restored in Saint Louis. 
Shipping & Delivery
$425 in the U.S. 
This cost is for white glove shipping in the United States. Arrives in 3 to 6 weeks. Cost includes full insurance, item collection and packaging, shipping and handling, and delivery by appointment. You don't need to lift a finger. Just point to the spot in your home where this beauty will live and our trusted white glove partners will do the heavy lifting.
If you would like a shipping quote for a different method,  Inquire Here.
Worldwide shipping available. Inquire here.
Need More Information?  
Would you like to see a video of this item, perhaps more photos?  If this is one of our chairs, would you like to see a person sitting in it?  If it is a painting, perhaps you would like to see a person in front of it for scale?  Send us a message and let's talk more about this cool piece.