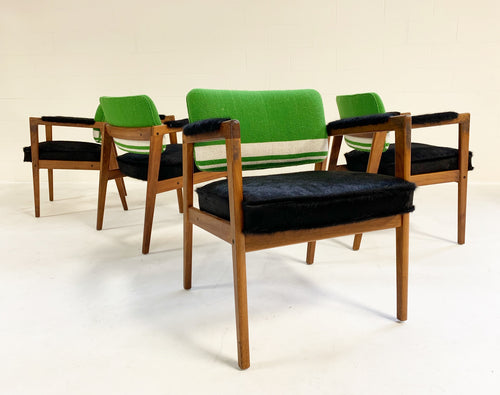 Description
We are serious fangirls of Isabel Marant. Who isn't. From Vogue, "Isabel Marant might be the number one whisperer of Parisian girl cool, largely thanks to her nomadic style impulses. Well-traveled and curious, she's been assembling references from far-flung corners of the world for decades." Marant's Autumn Winter 2018 collection drew inspiration from the American West. Right up our alley. Marant saying "it was about looking at a modern interpretation of the classic Western." When we saw her oversize, thick, silk wool, striped scarves from the collection, we knew they would be perfect for upholstery and paired with our cowhide for a truly unique, cowboy cool combo. These midcentury armchairs from Sweden are beautiful. After restoring the structural foam, we upholstered the backs with the Isabel Marant wool and on the seats and armrests, our natural black Brazilian cowhide. 
Details
Manufacturer
Unknown, Sweden 
Date
Mid 20th Century
Dimensions
26 W x 24 D x 30.5 H x 18 SH in
Material
Brazilian cowhide, Isabel Marant wool 
Condition
Excellent. Restored in Saint Louis.
Shipping & Delivery
$425 in the U.S. 
This cost is for white glove shipping in the United States. Arrives in 3 to 6 weeks. Cost includes full insurance, item collection and packaging, shipping and handling, and delivery by appointment. You don't need to lift a finger. Just point to the spot in your home where this beauty will live and our trusted white glove partners will do the heavy lifting.
If you would like a shipping quote for a different method,  Inquire Here.
Worldwide shipping available. Inquire here.
Need More Information?  
Would you like to see a video of this item, perhaps more photos?  If this is one of our chairs, would you like to see a person sitting in it?  If it is a painting, perhaps you would like to see a person in front of it for scale?  Send us a message and let's talk more about this cool piece.