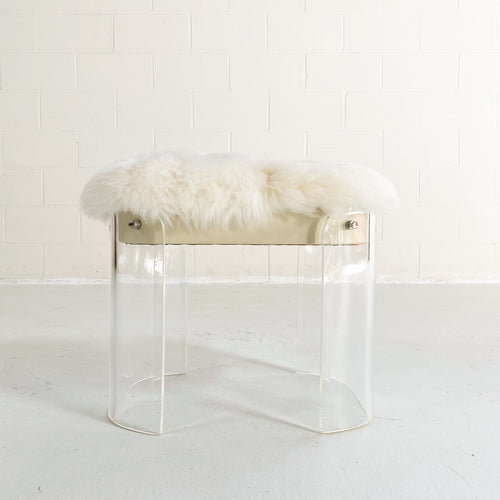 Description
Upholstered in beautiful New Zealand sheepskin with ivory leather on the sides, this lucite foot stool is the ultra chic accent for your boudoir. 
Details
Manufacturer
Unknown
Date
Mid 20th Century
Dimensions
20 W x 13 D x 17 H in
Material
Sheepskin, Leather, Lucite.

Condition
Excellent. Restored in Saint Louis.
Shipping & Delivery
$25 in the U.S. 
For our smaller home décor items, we ship FedEx Ground. Arrives in 3 to 5 days. Do you need it faster? Inquire here.
Worldwide shipping available. Inquire here.
Need More Information?  
Would you like to see a video of this item, perhaps more photos?  If this is one of our chairs, would you like to see a person sitting in it?  If it is a painting, perhaps you would like to see a person in front of it for scale?  Send us a message and let's talk more about this cool piece.