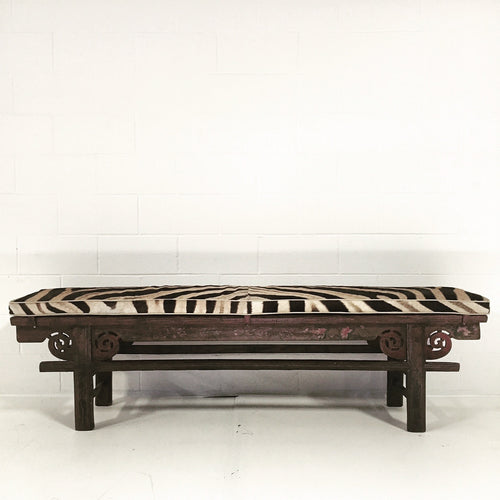 Description
We fell in love with collecting these vintage and antique Chinese benches because they are so versatile. We can picture them in a million different interiors, a million styles. Take this 90 year old bench from the Shandong Province, it has traces of its original paint and pairs perfectly with the zebra hide.
Details
Manufacturer
Unknown, China. 
Date
1920s
Dimensions
80 W x 16 D x 22.5 H in
Material
Zebra Hide and Elm 
Condition
Very good vintage condtion. Restored in Saint Louis.
Need More Information?  
Would you like to see a video of this item, perhaps more photos?  If this is one of our chairs, would you like to see a person sitting in it?  If it is a painting, perhaps you would like to see a person in front of it for scale?  Send us a message and let's talk more about this cool piece.