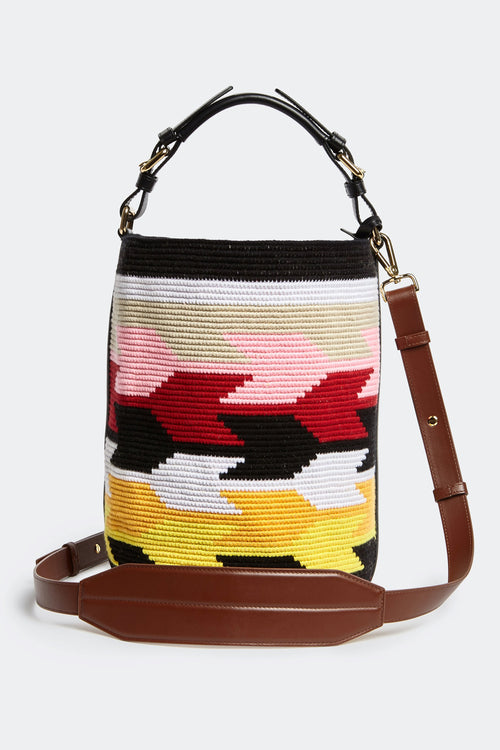 Description
Cylinder Arrows Midi Bag is woven by the Wayuu tribeswomen in Northern Colombia. Wayuu crocheting can be traced back to the craft traditions of Spanish missionaries who came to America during Colonial period. This art form is an expression of heritage, spirituality, and community, and it plays a vital role in supporting the local economy, providing a sustainable income for families. Assembled in Italy, the bag's malleable cylindrical structure is embellished with a smooth black leather trim and matching adjustable top handle. The vibrant arrow pattern, combining beige, pink, red, black, and yellow yarn, harnesses a joyful and celebratory style that is simply indefatigable. Seasons don't count here - wear it all year round.
Details
Brand
Colville
Origin 
Italy
Dimensions
11.8 H x 9.8 W in
Material
Outer Bucket: 100% Cotton
Trim & Internal Pouch: 100% Bovine Leather
Condition
New
Shipping & Delivery
$25 in the U.S. 
For our smaller home décor items, we ship FedEx Ground. Arrives in 3 to 5 days. Do you need it faster? Inquire here.
Worldwide shipping available. Inquire here.
Need More Information?  
Would you like to see a video of this item, perhaps more photos?  If this is one of our chairs, would you like to see a person sitting in it?  If it is a painting, perhaps you would like to see a person in front of it for scale?  Send us a message and let's talk more about this cool piece.