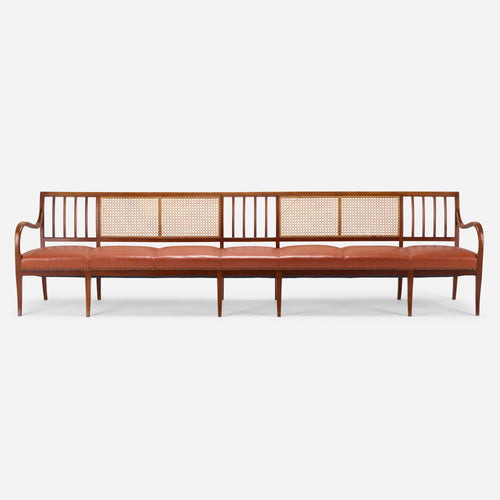 Description
Frits Henningsen was a cabinet maker and known for his labor-intensive, hand-built furniture items, using hardwoods such as mahogany. This bench is amazing. The length alone makes it a show-stopper. A true work of art.
Details
Manufacturer
Frits Henningsen, Denmark.

Date
c. 1940

Dimensions
127.5 W x 23 D x 32 H x 15 SH in
Material
Mahogany, Caning, Leather
Condition
Overall in very good condition. The leather upholstery appears to have been replaced at some point in the history of the piece and is in very good condition. The wooden surfaces appear to have been reconditioned at some point in the history of the piece and present with light surface scratches, edge abrasions and very minor indentations throughout consistent with age and use. There are no breaks in the caning. Overall, the piece shows nicely and is ready for everyday use.

Shipping & Delivery
$1,500 in the U.S. 
This cost is for white glove shipping in the United States. Arrives in 3 to 6 weeks. Cost includes full insurance, item collection and packaging, shipping and handling, and delivery by appointment. You don't need to lift a finger. Just point to the spot in your home where this beauty will live and our trusted white glove partners will do the heavy lifting.
If you would like a shipping quote for a different method,  Inquire Here.
Worldwide shipping available. Inquire here.
Need More Information?  
Would you like to see a video of this item, perhaps more photos?  If this is one of our chairs, would you like to see a person sitting in it?  If it is a painting, perhaps you would like to see a person in front of it for scale?  Send us a message and let's talk more about this cool piece.