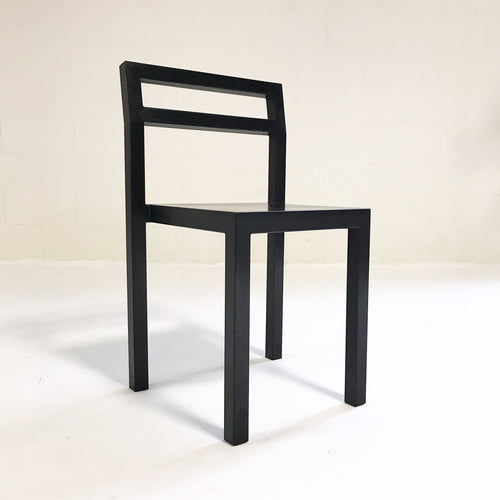 Description
The liberated and experimental approach to design with an eye for the latest production techniques are the hallmarks Komplot Design, the Danish design studio.  We recently collected this NON Chair at auction - it was acquired from a renowned design museum in Greece.
From Kumplot Design: "NON is a monoblock chair moulded in PUR-rubber in one shot.  Geometrically straight yet comfortable, thanks to the softness of rubber and built-in spring bands. The chair can be used both indoors and outdoors due to the properties of rubber. The rubber chair is an archetype for a chair, not a designed chair, just a chair. NON is to be used anywhere you choose to use it.
Just a chair - simple, straight, perfect.
Details
Manufacturer
Komplot, Belgium 
Date
Late 20th Century
Dimensions
17.25 W x 16 D x 30 H x 17.5 SH in
Material
Rubber
Condition
Excellent. 
Shipping & Delivery
$45 in the U.S. 
For our smaller home décor items, we ship FedEx Ground. Arrives in 3 to 5 days. Do you need it faster? Inquire here.
Worldwide shipping available. Inquire here.
Need More Information?  
Would you like to see a video of this item, perhaps more photos?  If this is one of our chairs, would you like to see a person sitting in it?  If it is a painting, perhaps you would like to see a person in front of it for scale?  Send us a message and let's talk more about this cool piece.