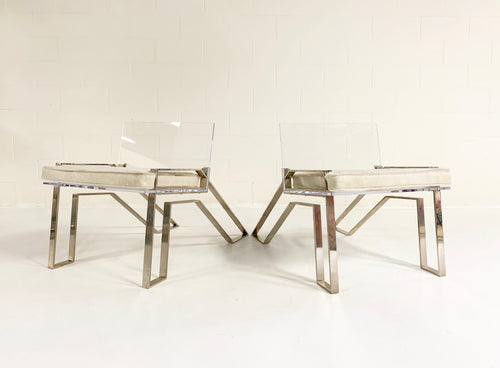 Description
Charles Hollis Jones is an American artist and furniture designer who is recognized by the Smithsonian Institution for his pioneering use of acrylic and lucite. These "Adirondack" lounge chairs have such an interesting and illuminating presence.
Our master upholsterers crafted perfectly fitted cushions in our luxuriously chic and simple ivory Brazilian cowhide.
Details
Manufacturer
Charles Hollis Jones, USA
Date
1970s
Dimensions
25 W x 40 D x 29.25 H x 20.25 SH
Material
Lucite, Chrome, Brazilian Cowhide
Condition
Very good. Cushions are newly made in Saint Louis.
Shipping & Delivery
$425 in the U.S. 
This cost is for white glove shipping in the United States. Arrives in 3 to 6 weeks. Cost includes full insurance, item collection and packaging, shipping and handling, and delivery by appointment. You don't need to lift a finger. Just point to the spot in your home where this beauty will live and our trusted white glove partners will do the heavy lifting.
If you would like a shipping quote for a different method,  Inquire Here.
Worldwide shipping available. Inquire here.
Need More Information?  
Would you like to see a video of this item, perhaps more photos?  If this is one of our chairs, would you like to see a person sitting in it?  If it is a painting, perhaps you would like to see a person in front of it for scale?  Send us a message and let's talk more about this cool piece.