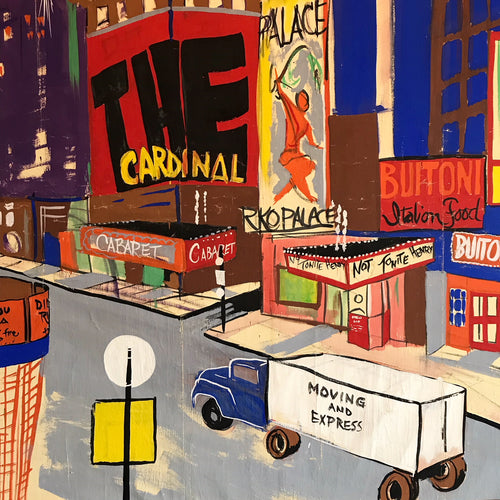 Description
We collected this vintage canvas at an antique store. It was wrapped up tightly. As we unrolled it, the enormous size (a little over 9 feet wide!!) and even cooler scene of Times Square in 1967 made us jump for joy. We knew the work was destined for a wall so we stretched the large canvas and framed it for hanging. The scene is historically accurate (we did a little researching) and the colors are so 60s.  It's a very cool piece destined for a very cool room.
Details
Artist
Unknown
Date
1960s
Dimensions
112.5 W x 51.5 H in
Material
Acrylic on Canvas. Artist made frame.
Condition
Good, vintage condition. Newly framed.
Need More Information?  
Would you like to see a video of this item, perhaps more photos?  If this is one of our chairs, would you like to see a person sitting in it?  If it is a painting, perhaps you would like to see a person in front of it for scale?  Send us a message and let's talk more about this cool piece.