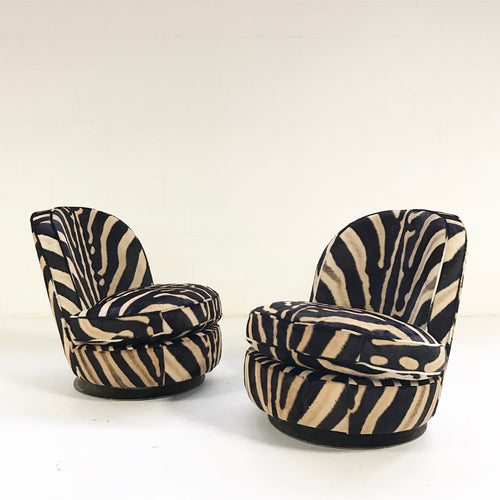 Description
These chairs are ready to party!  Milo Baughman's lounge chairs are so stylishly social and a matching pair of Baughman swivel and tilts is a rare statement.  When we spiced them up a notch, restoring and reupholstering in zebra hide, they went to the next level in the design stratosphere.  Hostesses with the mostesses.  Brand, new luxury down-filled cushions.
Details
Manufacturer
Thayer Coggin, USA
Date
Mid 20th Century
Dimensions
30.5 W x 26 D x 32 H x 17.5 SH in
Material
Zebra hide
Condition
Excellent. Restored in our Saint Louis studio. 
Need More Information?  
Would you like to see a video of this item, perhaps more photos?  If this is one of our chairs, would you like to see a person sitting in it?  If it is a painting, perhaps you would like to see a person in front of it for scale?  Send us a message and let's talk more about this cool piece.