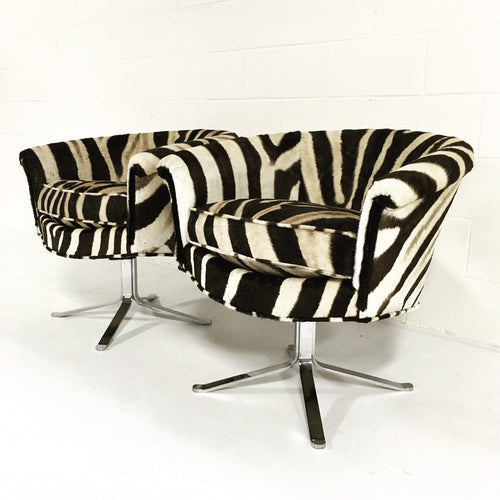 Description
So comfortable, so cool.  Nico Zographos's designs are known for their well-defined forms and high standards of manufacturing.  For office or home, this pair of swivel bucket chairs is irresistibly chic. Masterfully upholstered in zebra hide on a 4-star chrome base.
Details
Manufacturer
Pace Collection, USA
Date
Mid 20th Century
Dimensions
30.25 W x 21 D x 28.25 H x 20.25 SH in
Material
Zebra Hide and Chrome
Condition
Excellent. Restored in Saint Louis.
Need More Information?  
Would you like to see a video of this item, perhaps more photos?  If this is one of our chairs, would you like to see a person sitting in it?  If it is a painting, perhaps you would like to see a person in front of it for scale?  Send us a message and let's talk more about this cool piece.