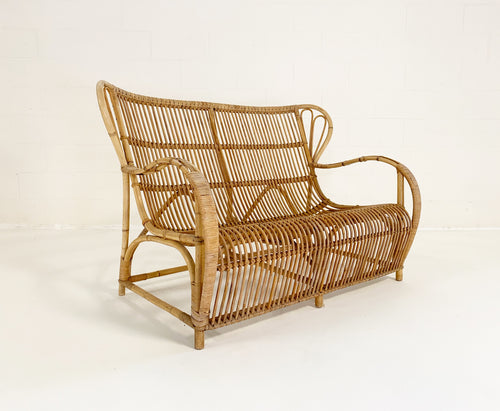 Description
R. Wengler, who was born in Germany, perfected the fine craftmanship of making wicker furniture in materials like rush and willow. Louis Wengler, the son of Robert Wengler, found the exotic material rattan at the Leipziger fair in Germany. R. Wengler was appointed as wicker maker to the Crown in 1914 as King Christian X placed a large order for rattan furnishing. Robert Wengler was now known as the best wicker maker in Denmark and many, now famous, architects came to his workshop to receive know-how and understanding about weaving and wicker work. Among those were Danish architects Arne Jacobsen, Viggo Boesen, Nanna & Jørgen Ditzel and Kay Bojesen. They had many of their prototypes made in R. Wenglers workshop in Copenhagen. Today, R. Wengler stands as one of the pioneers in rattan production. What he did to the craftmanship and the way he challenged the material, paves the way for the way me know rattan furniture today. 
This settee was acquired at auction. Label on back leg. Add a couple of our ivory New Zealand sheepskins for a cozier seat. 
Details
Manufacturer
R. Wengler, Denmark
Date
1960s
Dimensions
46 W x 34 D x 33.5 H x 14.5 SH in
Material
Rattan
Condition
Good vintage condition.
Shipping & Delivery
$850 in the U.S. 
This cost is for white glove shipping in the United States. Arrives in 3 to 6 weeks. Cost includes full insurance, item collection and packaging, shipping and handling, and delivery by appointment. You don't need to lift a finger. Just point to the spot in your home where this beauty will live and our trusted white glove partners will do the heavy lifting.
If you would like a shipping quote for a different method,  Inquire Here.
Worldwide shipping available. Inquire here.
Need More Information?  
Would you like to see a video of this item, perhaps more photos?  If this is one of our chairs, would you like to see a person sitting in it?  If it is a painting, perhaps you would like to see a person in front of it for scale?  Send us a message and let's talk more about this cool piece.