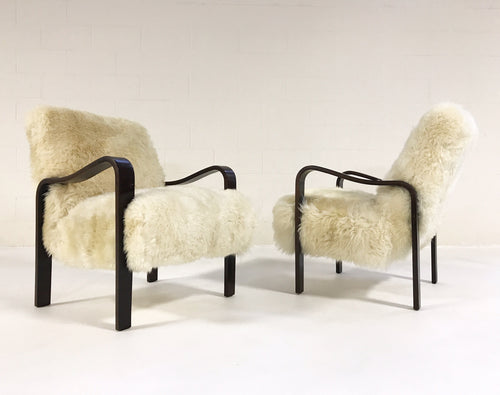 Description
INSANELY COOL. So comfortable. We wish we could keep these for ourselves. We love the sculptural yet graceful and fluid arms that effortlessly become the legs. Our designers chose our rustic Brazilian sheepskin for the material to counter the smooth wooden arms. These chairs underwent a complete restoration. Interested in only one? We can split up the pair.
Details
Manufacturer
Thonet, Germany 
Date
Mid 20th Century
Dimensions
26.25 W x 30 D x 33 H x 17 SH in
Material
Brazilian Sheepskin 
Condition
Excellent. Restored in Saint Louis.
Need More Information?  
Would you like to see a video of this item, perhaps more photos?  If this is one of our chairs, would you like to see a person sitting in it?  If it is a painting, perhaps you would like to see a person in front of it for scale?  Send us a message and let's talk more about this cool piece.