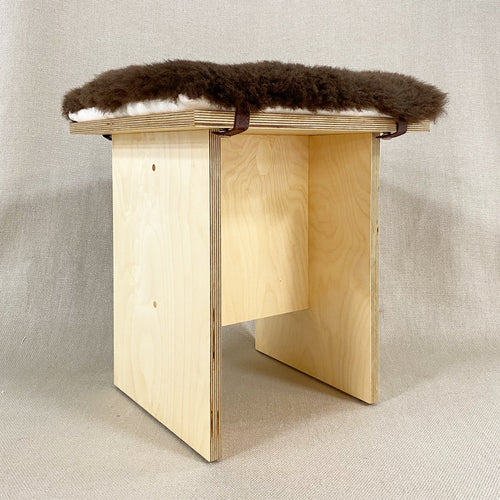 Description
In our opinion, every room needs a cool stool or three. We commissioned Waka Waka, an LA based studio and furniture maker, to create these simple seats out of their signature Baltic birch. Waka Waka focuses on wood furniture and functional objects, designed and hand crafted by Shin Okuda. Shin's work is simple in form and beautiful in proportion with handsome details. We love everything he creates.
For the custom-made cushions, we chose our soft Bison hide. The combination of bison hide and Baltic birch was inspired by our love of Georgia O'Keeffe's living room in her home at Ghost Ranch and the simple design of Donald Judd's Whyte building in Marfa. Two of our biggest inspirations - Judd and O'Keeffe - always cool. The cushions are affixed to the stool by leather straps to keep them in place. 
4 available
Details
Manufacturer
Waka Waka, USA
Dimensions
16 W x 16 D x 18.5 H in
Material
Baltic Birch, Bison Hide, Leather.

Condition
New and excellent. 
Shipping & Delivery
$45 in the U.S. 
For our smaller home décor items, we ship FedEx Ground. Arrives in 3 to 5 days. Do you need it faster? Inquire here.
Worldwide shipping available. Inquire here.
Need More Information?  
Would you like to see a video of this item, perhaps more photos?  If this is one of our chairs, would you like to see a person sitting in it?  If it is a painting, perhaps you would like to see a person in front of it for scale?  Send us a message and let's talk more about this cool piece.