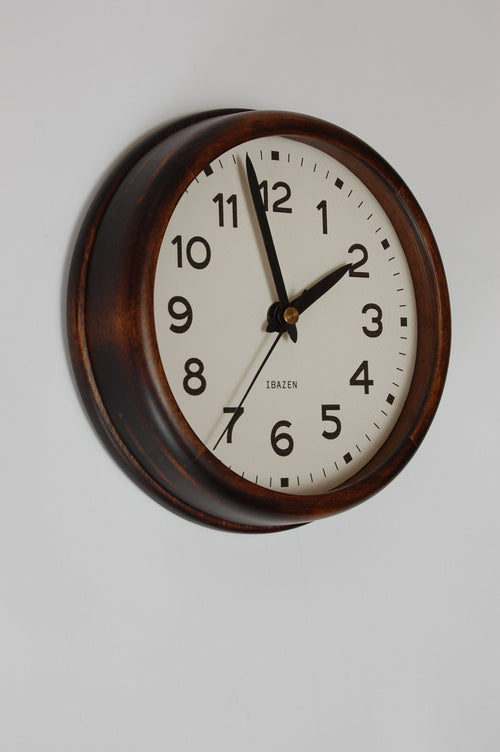 Description
Ibazen is a furniture workshop located in a small town called Biei on the island of Hokkaido, Japan.  The chief designer and maker, Iba Takahito, learned his practice under wood sculptor Takahashi Yoshiaki and at Studio Yazakawa until he founded his namesake brand in 2007. Takahito uses traditional Japanese woodworking techniques to create works of art. All the wood he uses is Japanese and mostly found on Hokkaido, from oak to cherry. Finishing is all done by hand using hand-held planes and a specially formulated lacquer called Urushi, creating a durable, long-lasting, lustrous masterpiece. Ibazen's pieces showcase past designs that are functional, comfortable and to be enjoyed for modern living.
We love the wall clock. The cherry wood is beautiful and cool, the typeface is perfect. Analog time telling at its chicest.
In stock. 
Details
Manufacturer
Ibazen, Japan
Date
2022

Dimensions
19 Diameter centimeters (7.5 Diameter inches)
Material
Japanese Cherry (Sakura), Glass.

Condition
New. 
Shipping & Delivery
$45 in the U.S. 
For our smaller home décor items, we ship FedEx Ground. Arrives in 3 to 5 days. Do you need it faster? Inquire here.
Worldwide shipping available. Inquire here.
Need More Information?  
Would you like to see a video of this item, perhaps more photos?  If this is one of our chairs, would you like to see a person sitting in it?  If it is a painting, perhaps you would like to see a person in front of it for scale?  Send us a message and let's talk more about this cool piece.