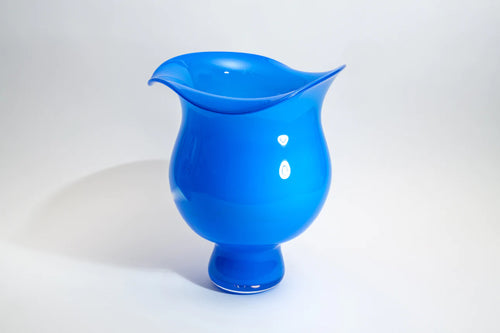 Description
As an extension of the candy universe, Helle Mardahl's Candy Bowl Mega draws on references from the fairytale  'Alice in Wonderland' where proportions and shapes are dreamy and almost surreal. Strongly influenced by Helle Mardahl's infatuation with magical sweet shops, the Bon Bon Massive is a supersized piece of candy.
Care: Helle Mardahl products are not dishwasher friendly. All products should be washed by hand in lukewarm water with a little detergent and wiped dry afterwards to avoid water stains.
Please note that each product is handmade and unique, so the shape and color may differ slightly from the one pictured. Furthermore, small magical  bubbles may appear.
Details
Artist
Helle Mardahl
Dimensions
10.5 W x 14.5 H in approx.
Material
Glassware
Condition
New
Shipping & Delivery
$45 in the U.S.
For our smaller home décor items, we ship FedEx Ground. Arrives in 3 to 5 days. Do you need it faster? Inquire here.
Worldwide shipping available. Inquire here.
Need More Information?  
Would you like to see a video of this item, perhaps more photos?  If this is one of our chairs, would you like to see a person sitting in it?  If it is a painting, perhaps you would like to see a person in front of it for scale?  Send us a message and let's talk more about this cool piece.