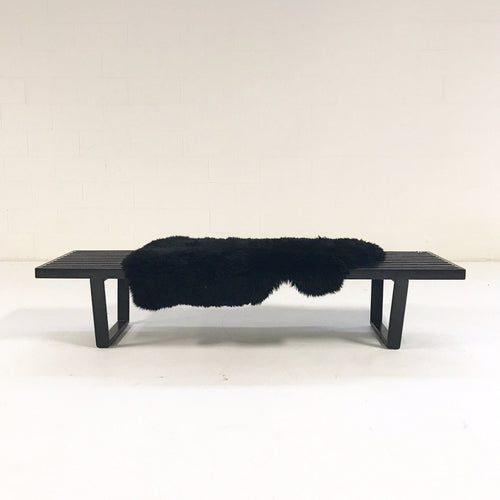 Description
A modern bench with beautiful lines! The Model 4692 Platform Bench is a landmark of modern design. The rectilinear lines of the surface reflect designer George Nelson's architectural background. Nelson's creative goal when designing the platform bench was a multi-use piece. He envisioned it as shelving, high and low storage cases, coffee tables, or seating. This piece, with its ebonized frame and rectangular slat seat, is simply beautiful. We added a beautiful, rustic black Brazilian sheepskin for a cozy seat.
Details
Manufacturer
Herman Miller, USA
Date
1960s
Dimensions
70.5 W x 19 D x 14 H in
Material
Wood with Brazilian Sheepskin
Condition
Very good.
Need More Information?  
Would you like to see a video of this item, perhaps more photos?  If this is one of our chairs, would you like to see a person sitting in it?  If it is a painting, perhaps you would like to see a person in front of it for scale?  Send us a message and let's talk more about this cool piece.