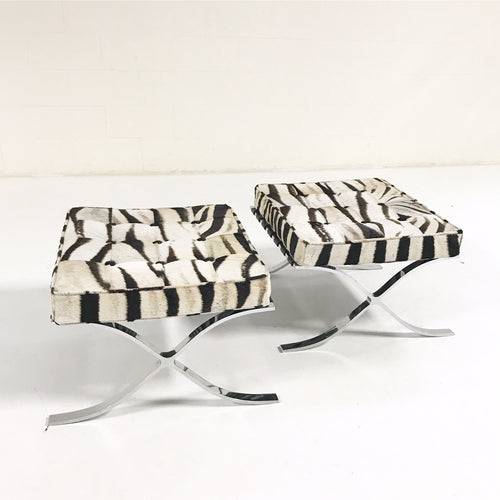 Description
The Barcelona Stool was created by Ludwig Mies van der Rohe for the German Pavilion at the 1929 Barcelona Exposition. We collected this pair of ottomans in the manner of the original. Our master craftsmen created brand new cushions for the ottomans. Each square of zebra hide is hand selected and individually sewn to create the patchwork design like the original upholstery on the Barcelona ottomans.. The hide-covered buttons and piping finish it off. The cushions sit on leather straps on a chrome-legged frame. We love this versatile, modern, one of a kind pair! 
Details
Manufacturer
Unknown
Date
mid 20th century
Dimensions
21 W x 25 D x 15.5 H in
Material
Zebra Hide, Chrome, Leather
Condition
Excellent. Restored in Saint Louis.
Need More Information?  
Would you like to see a video of this item, perhaps more photos?  If this is one of our chairs, would you like to see a person sitting in it?  If it is a painting, perhaps you would like to see a person in front of it for scale?  Send us a message and let's talk more about this cool piece.