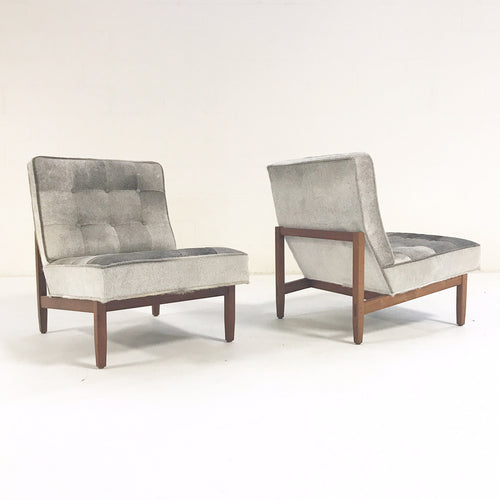 Description
This Florence Knoll design is iconic. We love the architectural lines and geometric profile. We gave our master upholsterers a big job to do with this pair. We wanted them to mimic the tufted patchwork so famous in Knoll upholstered furniture. We knew it would be a tough feat to do with cowhide. And lo and behold, who were we to second guess our amazing team of upholsterers and craftsmen! This is one of our most favorite pairs ever to come out of the Forsyth studio. Our designers chose the most perfect salt and pepper hued Brazilian cowhide. We love this color with modern pieces. 
Details
Manufacturer
Knoll Associates, USA
Date
Mid 20th Century
Dimensions
25 W x 30.5 D x 30.5 H x 15.5 SH in
Material
Brazilian Cowhide
Condition
Excellent. Restored in Saint Louis.
Need More Information?  
Would you like to see a video of this item, perhaps more photos?  If this is one of our chairs, would you like to see a person sitting in it?  If it is a painting, perhaps you would like to see a person in front of it for scale?  Send us a message and let's talk more about this cool piece.