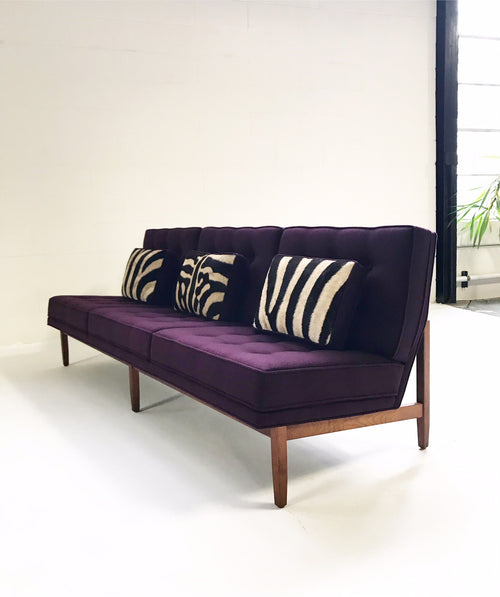 Description
In 1954, Florence Knoll designed the perfect sofa. Modern, elegant, and minimal enough to fit into any interior space with pieces from any style. The geometrically angular profile reflects the perfectionism and functionality of modern design. Per the Forsyth way, our master upholsterers went down to the bones and restored with all new foam and cushioning. Expertly reupholstered in a gorgeous Loro Piana aubergine cashmere, we upped the ante on this sofa's supreme elegance.  Complemented by custom box cushions done in Forsyth zebra and the Loro Piana cashmere, this sofa is destined to be featured on the glossy pages of a beautiful magazine. Deep purple sofas are always in.
Details
Manufacturer
Knoll Associates, USA
Date
c. 1950s
Dimensions
85.5 W x 28.75 D x 30.5 H x 16.75 SH in
Material
Loro Piana Cashmere, Zebra Hide
Condition
Excellent. Restored in Saint Louis.
Shipping & Delivery
$725 in the U.S. 
This cost is for white glove shipping in the United States. Arrives in 3 to 6 weeks. Cost includes full insurance, item collection and packaging, shipping and handling, and delivery by appointment. You don't need to lift a finger. Just point to the spot in your home where this beauty will live and our trusted white glove partners will do the heavy lifting.
If you would like a shipping quote for a different method, inquire here.
Worldwide shipping available. Inquire here.
Need More Information?  
Would you like to see a video of this item, perhaps more photos?  If this is one of our chairs, would you like to see a person sitting in it?  If it is a painting, perhaps you would like to see a person in front of it for scale?  Send us a message and let's talk more about this cool piece.