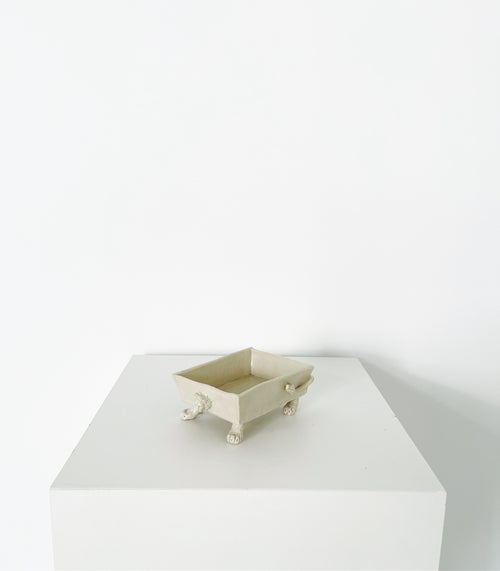 Description
This vessel is one of a kind. Part of the Leo Collection. Use it as a beautiful flower vase or sculpture atop your mantle, table, coffee table, or chest.
The Leo Collection by artist Maggie Robertson is a beautiful series of one-of-a-kind, hand-built stoneware vessels. Each unique piece embraces the seams and irregularities of her hand-built technique complemented by a lion's head and hand-sculpted feet and tail. The vessels are water tight and food safe, microwaveable and dishwasher safe; however, as they are art pieces and fragile, we would recommend hand washing. 
Details
Artist
Maggie Robertson
Date
2022

Dimensions
2 H x 3 W x 4 D in approx.
Material
Hand-built stoneware
Condition
New, original work of art.
Shipping & Delivery
$45 in the U.S.
For our smaller home décor items, we ship FedEx Ground. Arrives in 3 to 5 days. Do you need it faster? Inquire here.
Worldwide shipping available. Inquire here.
Need More Information?  
Would you like to see a video of this item, perhaps more photos?  If this is one of our chairs, would you like to see a person sitting in it?  If it is a painting, perhaps you would like to see a person in front of it for scale?  Send us a message and let's talk more about this cool piece.