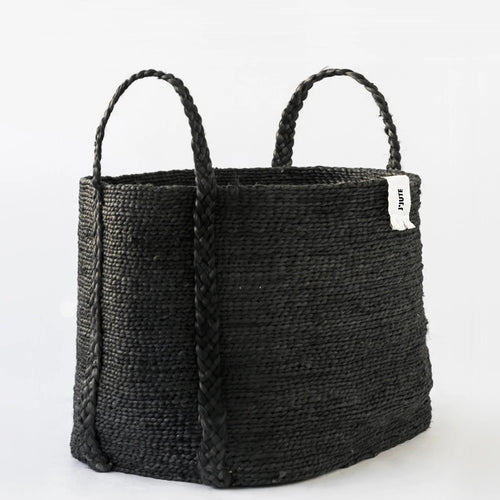 Description
This beautiful, natural basket, hand-crafted by artisans in India, is the perfect storage solution for towels, sheets, toys, laundry, pillows, firewood, and throw blankets. And it has two braided side handles, so it's easy to move throughout the house, making it an amazing laundry hamper. Beautiful entryway basket and also incredibly useful for styling and tidying mudroom clutter.
All items are intricately made by hand with natural jute fiber, so each piece will vary slightly in size and may also have individual characteristics unique to that particular piece. Each basket is shipped in an individual flat-packed J'Jute 100% Recyclable Pouch. Simply cut open and do your part to recycle upon receipt.
Designed in Bondi Beach, Australia, J'Jute is an Australian Luxury Brand making storage fashionable. Their sustainable and handmade baskets encapsulate the laid-back Australian beach culture and celebrate the coastal lifestyle in the home. J'Jute values handcrafted workmanship, honest materials and integrity of design. 
100% Natural Jute

Desert Black - Organic Reactive Dye *It is not recommended you use our black baskets for damp white laundry. To keep your basket from fading we recommend not placing in direct sunlight.
Details
Manufacturer
J'Jute, Australia

Date
New

Dimensions
14 W x 20 L x  16 H inches
Material
100% natural jute

Condition
Excellent. Brand new.
Shipping & Delivery
$25 in the U.S. 
For our smaller home décor items, we ship FedEx Ground. Arrives in 3 to 5 days. Do you need it faster? Inquire here.
Worldwide shipping available. Inquire here.
Need More Information?  
Would you like to see a video of this item, perhaps more photos?  If this is one of our chairs, would you like to see a person sitting in it?  If it is a painting, perhaps you would like to see a person in front of it for scale?  Send us a message and let's talk more about this cool piece.