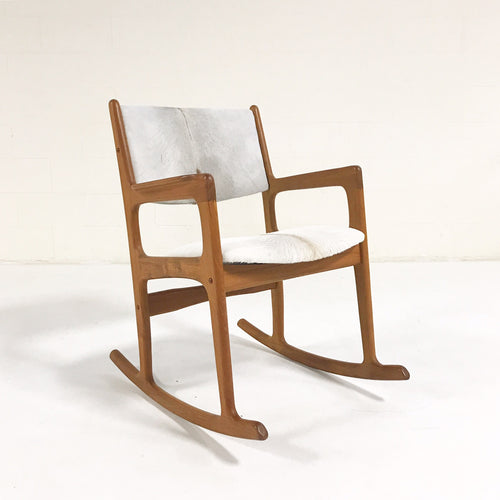 Description
We collected this mint vintage rocking chair by great Danish designer, Benny Linden.  We adored the beautifully scuplted lines solidly built teak.  We restored the upholstery with our ivory hued Brazilian calfskin, the silkiest, most comfortable seat!  This rocking chair deserves a cool, modern space to live for the rest of its days!
Details
Manufacturer
Unknown, Denmark
Date
Mid 20th Century
Dimensions
23 W x 30 D x 33 H x 18.5 SH in
Material
Brazilian Calfskin
Condition
Excellent. Restored in Saint Louis.
Need More Information?  
Would you like to see a video of this item, perhaps more photos?  If this is one of our chairs, would you like to see a person sitting in it?  If it is a painting, perhaps you would like to see a person in front of it for scale?  Send us a message and let's talk more about this cool piece.