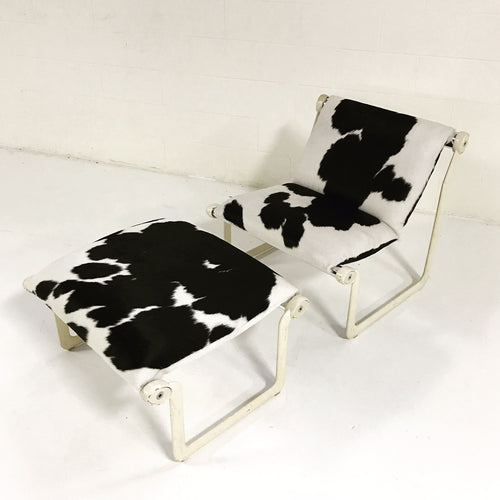 Description
Another iconic MCM chair for the collection. Designed by Bruce Hannah and Andrew Morrison for Knoll in the 1970s, the swing chair and ottoman are highly sought after pieces. Newly upholstered in black and white Brazilian cowhide, it's the perfect addition to any modern living space. Fabulous overall condition. There are some chips to the enamel finish, but we didn't wanna mess with the vintage look. These are classic, hence our choice of black and white.
Details
Manufacturer
Knoll Associates, USA
Date
1970s
Dimensions
Chair: 29 W x 27.5 D x 28 H x 16.5 SH in
Ottoman: 29 W x 25.5 D x 17 H in
Material
Brazilian Cowhide, enamel
Condition
Excellent. Restored in our Saint Louis studio.  
Need More Information?  
Would you like to see a video of this item, perhaps more photos?  If this is one of our chairs, would you like to see a person sitting in it?  If it is a painting, perhaps you would like to see a person in front of it for scale?  Send us a message and let's talk more about this cool piece.