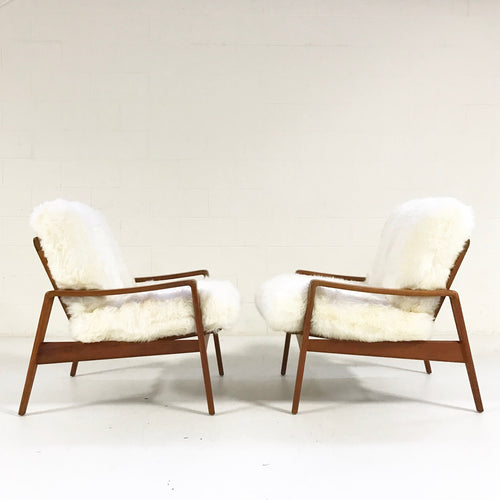 Description
This is a beautiful pair of teak Danish lounge chairs designed by Arne Wahl Iversen for Komfort. Made in Denmark and manufactured in 1960. Our Forsyth design team chose our luxurious New Zealand sheepskin for the cushion upholstery. Like sitting on a cotton ball.
Details
Manufacturer
Komfort, Denmark
Date
1960
Dimensions
27.75 W x 30 D x 33 H x 18.5 SH in
Material
New Zealand Sheepskin and Teak Wood
Condition
Excellent. Restored in Saint Louis.
Need More Information?  
Would you like to see a video of this item, perhaps more photos?  If this is one of our chairs, would you like to see a person sitting in it?  If it is a painting, perhaps you would like to see a person in front of it for scale?  Send us a message and let's talk more about this cool piece.