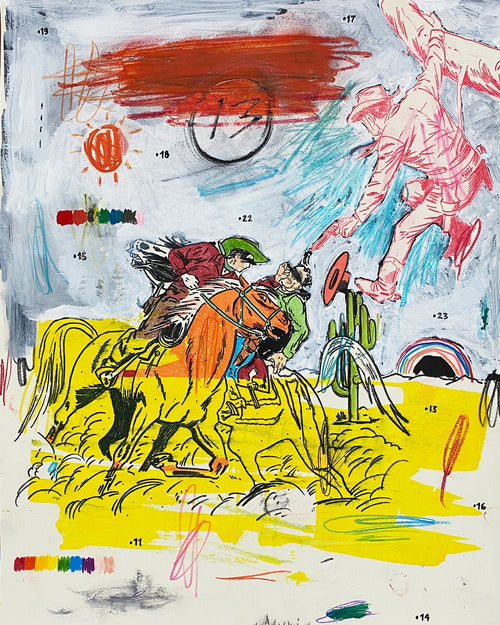 Description
New, original Drawing.
Framed in museum-quality Gallery White Frame with Island Float. UV-shielding plexiglass. Frame includes wall bumpers, hanging hardware, and nails.
American (b. 1975). Matt Eddmenson, who graduated from The Art Academy of Cincinnati in 1999, draws from a range of influences and sources for his practice, including Cowboy Comics, Pop Art, and the work of Cy Twombly. His works are gatherings and reconfigurations of American imagery and iconography, commonly featuring cowboys, skulls, and rodeo horses. He also incorporates images from the golden age of comics and tattoo culture. Eddmenson explains: "I work from my memories as a child, I learned to draw by tracing comic book covers over and over until I was able to draw these characters from memory—I have a deep admiration for comic book art." Works like 'You Keep Twistin My Words Around' (2020) and 'Don't Look at the Sun Too Long' (2020) demonstrate Eddmenson's ability to reference western comics, his love for postmodern masters, and the great colorists of the 21st century.
Details
Artist
Matt Eddmenson
Date
2020
Dimensions
11 W x 14 H in art and 17 W x 20 H framed
Material
Acrylic, Color Pencil, Spray Paint, Pen and Ink on Paper
Condition
New, original work of art. 
Shipping & Delivery
$225 in the U.S. 
For small art, we ship FedEx Ground. Arrives in 3 to 5 days. Do you need it faster? Inquire here.
Worldwide shipping available. Inquire here.
Need More Information?  
Would you like to see a video of this item, perhaps more photos?  If this is one of our chairs, would you like to see a person sitting in it?  If it is a painting, perhaps you would like to see a person in front of it for scale?  Send us a message and let's talk more about this cool piece.