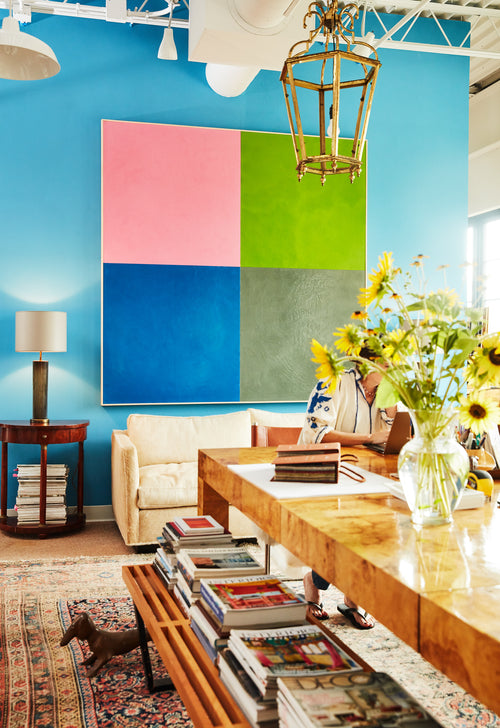 Description
In Square Dance series. 
John O'Hara's Square Dance series, inspired by Josef Albers's extensive Homage to the Square series, focuses on the simplification of shape and the relationship of color. Where Albers used oil paint and silk-screen as his mediums, O'Hara's encaustic wax significantly influences the final piece and the process, which is quite unique.

O'Hara creates his Square Dance series by first laying on a ¼ inch of wax onto his specially made boards. O'Hara heats the wax with a heat gun to cure the paint to the board and smooth the surface into a glassy finish. To achieve the crisp, sharp lines of each square, four boards are each painted their carefully chosen color. Color theory plays an integral part in the series. Differing from Albers, O'Hara chose to position his squares not one on top of another but in a grid. This allows the viewer's eye to "dance" around the work. O'Hara then positions the colors and bolts each board together to create the larger square. The series is simple, powerful and direct, and above all else, quite enjoyable to look at hanging on a wall.
We are proud to be the exclusive gallery of John O'Hara (American, b. 1963). O'Hara is a self-taught artist from St. Louis and is known for his large-scale abstract decorative pieces. His medium of choice is encaustic—a mixture of pigments and beeswax and he allows the material to dictate color, line and texture. His works often feature natural and organic forms and incorporate both figural and abstract elements. O'Hara began his art career in 2018 and collectors and designers quickly took notice. His work is included in both public and private collections around the world. Michael Kors selected O'Hara's Tar series paintings for his Milan, Paris, and New York showrooms and his flagship store in London designed by Pamela Meech. O'Hara's Brands on Yellow is hanging in the lounge of Maison de Luz, the new luxury hotel by Atelier Ace and designed by AD100 design firm Studio Shamshiri. O'Hara, co-founder of Forsyth, is known for his Tar series, Brands series, Vinyl series, Botanical series, Daisies series, Sardinia series, and Get Your Shit Together series.
Details
Artist
John O'Hara
Date
2020
Dimensions
72.75 W x 72.75 H in
Material
Encaustic on Board. Artist made frame.
Condition
New, original work of art.
Shipping & Delivery
$1,500 in the U.S. 
This cost is for white glove shipping in the United States. Arrives in 3 to 6 weeks. Cost includes full insurance, item collection and packaging, shipping and handling, and delivery by appointment. You don't need to lift a finger. Just point to the spot in your home where this beauty will live and our trusted white glove partners will do the heavy lifting.
If you would like a shipping quote for a different method,  Inquire Here.
Worldwide shipping available. Inquire here.
Need More Information?  
Would you like to see a video of this item, perhaps more photos?  If this is one of our chairs, would you like to see a person sitting in it?  If it is a painting, perhaps you would like to see a person in front of it for scale?  Send us a message and let's talk more about this cool piece.